Scottish indie rock-pop band ACRYLIC curate a mixtape for the broken hearted.
Hopefully the heading of this article will not cause alarm to fans of ACRYLIC. The title reflects a theme and not the current state of the band.
In fact quite the opposite. They have already released two singles this year: the soaring I've Got Too Many Friends and their brand new atmospheric break-up single Money From Home both released via Scottish Fiction.
They are also set to headline The Mash House in Edinburgh on Saturday 15th June – you can get tickets here.
ACRYLIC formed in 2014 when Andreas, Ross Patrizio (guitar/vocals), Jack Lyall (guitar), Lewis Doig (bass/vocals/synth) and Ruairidh Smith (drums) moved to Glasgow for university. Since then, the band have gone from strength to strength, receiving critical acclaim for their last EP, All I Am which was released via Scottish Fiction.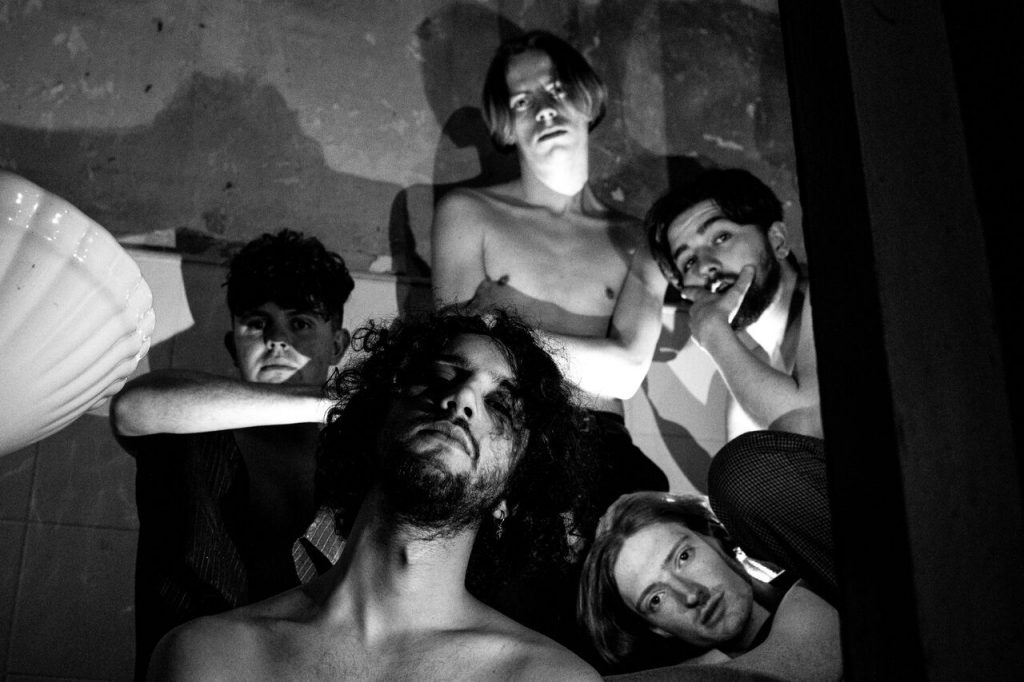 Click on the player below to listen to the mixtape and read about the bands "break up" selections in their very own words.
Press play and let it run.
Money from Home – ACRYLIC

Money from Home is our latest release, and essentially it's a song about a break up, so we've decided to make a playlist of 9 of what we consider to be the best break up songs. This song can be separated into three sections; the first verse centres around a peaceful moment, sleeping beside someone during a snowstorm, and that feeling that the room and the bed become the entire world for a night. The second verse explores the onset of tiredness and the acknowledgement that you're drifting apart gradually. The chorus and "money from home" middle 8 represent acceptance and farewell.
Heatwave – Snail Mail
This is one of our favourite tracks from the brilliant Lush album. We think we may be a bit late to the party as everyone seemed to rave about it last year, but we've blasting it every day in the flat for the last few months. It's a melancholic album, but this song sticks out with a couple of beautiful lines about separation, particularly when it seems to be the other person's decision. The highlight is:
"I hope the love that you find swallows you wholly, like you said it might."
Desire – Ought
Tim Darcy opens the song with a question; "Didn't I say to you not too recent that it was never gonna stay?", reflecting on the disintegration of his affair, with a knowing tone that says I told you so. The lyrics take us through the progression and eventual collapse of his relationship, beginning with standing in someone's doorway holding flowers on the first date, when they "rose out of the roses right under my mouth." The repetition in the chorus of the line "desire was never gonna stay," reinforced by a choir in the background, is both lovely and devastating.
The Wolves (Acts I and II) – Bon Iver
Justin Vernon's lyrics are often very cryptic, which allows meaning to be projected onto them very liberally. Not entirely sure that this song is specifically about a break up, or about any one thing. However, the opening line, "someday my pain will mark you", has always stood out as his damning and unforgiving last words to somebody who has broken his heart.
Eventually – Tame Impala
This is probably our favourite from Tame Impala's Currents. It's not a typical break up song in that Kevvy P doesn't seem to have broken up with his partner but is trying to convince himself to do so. He sings 'I know that I'll be happier and I know you will too, eventually.' His very direct lyrics are striking and convey a feeling that almost everyone can relate to. The instrumentation is amazing and listened to alone sounds romantic, like a love song. This juxtaposed with what he's actually saying makes it all the more devastating. A favourite line is 'I know I always said that I could never hurt you. Well this is the very, very last time I'm ever going to'.
Conversation 16 – The National
Again, this is not a straight-forward song about a relationship ending, but more Matt Berninger's very relatable description of the every day realities of the kind of arguments and nastiness that occur in what are potentially the last, doomed days. Favourite lines include "it's a Hollywood summer, you'd never believe the shitty thoughts I think / meet our friends out for dinner, when I said what I said I didn't mean anything." The tone of the song changes towards the end with the melody of the vocal, which shifts to a harmony of itself, as his lyrics become more confessional; "I try to be more romantic, I want to believe in everything you believe / I'll fall asleep in your branches, you're the only thing I ever want anymore." Maybe skip the end of this tune, before the weird and frankly unnecessary "I'd eat your brains" refrain.
End of the Affair – Ben Howard
This one is too sad. Don't listen to it if you're feeling fragile.
"The way of your laughter alive in the halls / Now I watch her running round in love again."
Self Control – Frank Ocean
"You cut your hair but you used to live a blonded life / wish I was there, wish we'd grown up on the same advice, and our time was right."
This is a sexy but sombre ballad from Frocean, and like everything on Blonde, it's an absolute tune. He ponders the differences between himself and his ex which meant that their love was not meant to be.
Garden (Say it like Dat) – SZA
Most of her Ctrl album is a pointed and accusatory dig towards somebody SZA was involved with, as it's written from the unique point of view of 'the other woman', but within that is Garden, whose tone is more affectionate than the other tracks. In this one she confesses her love for her partner, but laments the fact that given time to get to know her, they will inevitably leave her.
"Open your heart up
Hoping I never find out that you're anyone else
'Cause I love you just how you are
Hope you never find out who I really am
'Cause you'd never love me."
Somebody Else – The 1975
There comes a time in one's life when one has to concede that the 1975 have some absolute belters. This was the Victor from Still Game "that's….that's actually quite good" moment for us. Matt Healy puts into words that hideous jealousy we've all felt at seeing an ex with somebody else:
"I don't want your body but I hate to think about you with somebody else."
He is still annoying though.
ACRYLIC are:
Andreas Chrsitodoulidis (vocals)
Ross Patrizio (guitar/vocals)
Jack Lyall (guitar)
Lewis Doig (bass/vocals/synth)
Ruairidh Smith (drums)
Discover more about ACRYLIC: Facebook | Spotify | YouTube
Discover New Music…
For more live sessions subscribe to our channel on YouTube and follow us on Facebook, Twitter and Instagram for news on the great new music we love.
Keep up to date with what we are listening to by following our Spotify New Music Playlist which we update every month.
0