Fair Mothers – Monochrome (Song, By Toad Records)
Fair Mothers is the moniker of Scottish songwriter, Kevin Allan.  Fair Mothers first came to our attention with the release of Through Them Fingers Yours And Mine in 2016 which heavily featured Kathryn Joseph.
That acclaimed collaboration with Kathryn and producer Marcus Mackay and a nomination to the 2017 Scottish Album of The Year (SAY) propelled Allan to write two new albums. The first release, Separate Lives featured collaborations with Dana Gavanski, Faith Eliot, Pete Harvey, Johnny 'Pictish Trail' Lynch and more.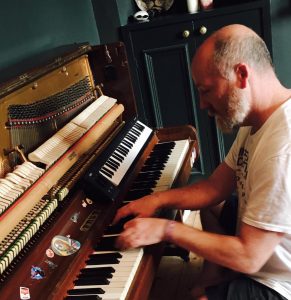 In Monochrome will be the second release due out on 14th August via Song, By Toad Records and possibly the label's swan song. Song, By Toad had sadly put the label to bed over a year ago but these two records were started before prior to then.
'Monochrome' is a beautifully stark and intensely personal track.  It's also the Aberdeenshire songwriter's favourite track on the album.
Written after a particularly fierce argument with his wife, the lo-fi track concerns "the possibility of splitting up, the ruin of our life and losing my family," says Allan. "We let cold winds into our home / They say days spent in separate lives", Allan sings, his voice almost breaking. "They disappear."
Yet the tale is not without hope, nor a deeper lesson about the ties that bind us together. Long-term relationships – much like life itself – require real effort and commitment. Sacrifice too. 'Monochrome' is, says Allan, the most honest track on the album, and also his personal favourite. The stark nature of the music – quietly strummed acoustic guitar, plaintive piano lines, and the haunting, sombre cello of Pete Harvey – matches the subject matter perfectly, but it swells to something approaching warmth and optimism.
In part, that's down to Glasgow-based US artist Faith Eliott, who duets with Allan on the song's closing refrain and adds some sweet, heartfelt "Sha la la la's", an idea taken from 'Baby It's You', a Burt Bacharach song by The Shirelles. It was a detail added by producer and Song, By Toad label boss Matthew Young, and one that gives 'Monochrome' "the most beautiful ending".
'Monochrome' is available now on all platforms.
0