Scottish drummer and producer, Audrey Tait shares her life in lockdown.
As well as an accomplished drummer, Audrey Tait has also been named as "one of Scotland's most innovative music producers".  Along with singer/songwriter, Lauren Gilmour she runs Novasound Studio – the only female run recording studio in Scotland.
As a drummer, Audrey has toured around the world and played numerous festivals in Europe and the UK as part of Scottish hip-hop band Hector Bizerk.  Audrey is also one half of folk/rock duo, The Miss's and her most recent project The Girl Who Cried Wolf.  She also collaborated with Broken Chanter on their debut album and subsequent tour.
The Girl Who Cried Wolf recently released their, Crazy Things EP –  the product of staying creative during lockdown.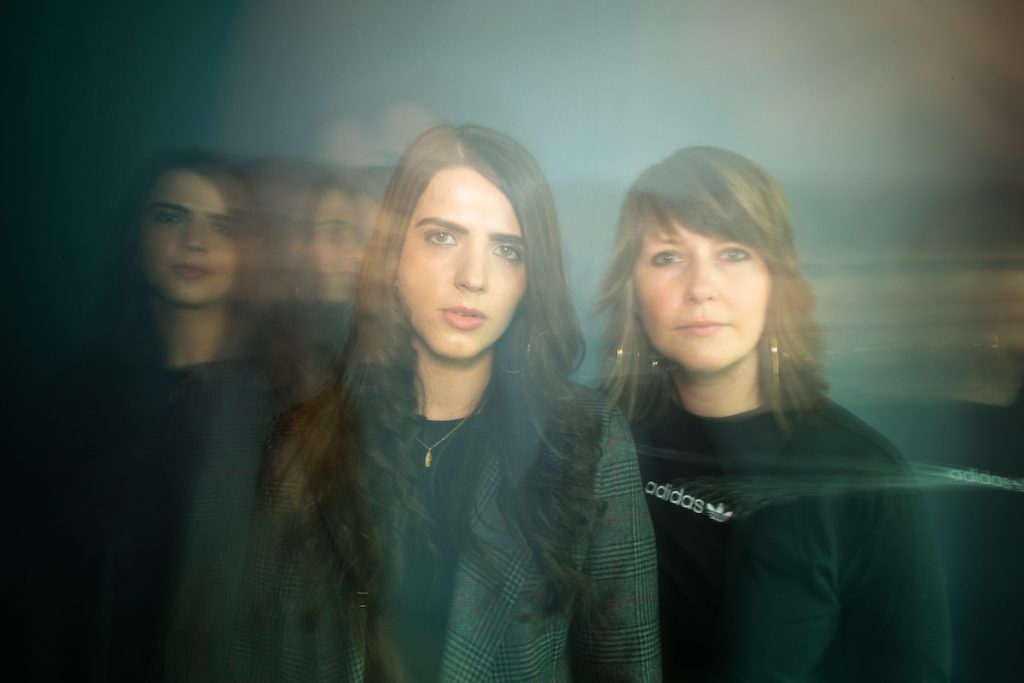 Are you keeping well and how are you spending lockdown?
I'm good thank you. I've mainly been spending lockdown on FaceTime and watching the Tiger King! I've partaken in a few quizzes too. I actually think it's making me more sociable in a weird way!
Does music mean more to you now than ever and how are you responding to it creatively?
Absolutely! I always feel really lucky to have music as an outlet but I think it's important to acknowledge that it's ok to not feel creative right now. If it happens then great, I embrace those moments, but if not then that's alright too. I always feel like hitting drums, though!
What music are you listening to right now?
I've just had Spotify on a bit of a shuffle so it featured Fleetwood Mac, Turin Brakes and Laura Marling. Quite chilled.
Have you discovered any music gems during isolation?
I have! Bell X1 are fast becoming a new favourite actually.
Get fit or embrace the bulge?
Haha what a question! Both? Go a walk then eat sweeties? That's my mantra!
Have you been surprised at the contents of your kitchen cupboards and  have you made anything delicious from said contents?
I'm just surprised there's anything left in them to be honest!
What habits have started to form or are starting to fade?
Well this week I've started going a walk in the morning to help get a sense of routine. Felt like I was getting too lazy! And because I've not been out playing at the weekends, I've started drinking gin. Not completely awful habits I don't think!
What random things are you buying online?
I bought bongos just before lockdown but I guess that's not too random cause I'm a drummer. Oh I ordered a chromecast actually and they sent me 10 so if anyone is in the market for one, gimme a shout!
What are you doing to keep motivated?
I usually teach drums so I've been making tutorial videos which is keeping me busy. I've also been getting involved in a songwriting group on Facebook my friend Becci has set up. I've never really done anything like that so it's been a good push for my songwriting and production skills.
What are you most looking forward to doing again this is all over?
Aw man, so much! I can't wait to get back into the studio with Lauren. We work together and have the band (The Girl Who Cried Wolf) so it's been so strange not seeing each other everyday. I miss playing so much! Michelle and I are usually out every weekend with The Miss's. I can't wait to see my wee nieces and nephews and give them a cuddle! And I want to see Celtic!
And finally, have you anything you would like to plug or declare?
The Girl Who Cried Wolf have just released a new EP – it's called Crazy Things and is the product of staying creative during lockdown. We're so excited to share these songs with you.
Also if anyone fancies checking out the drum videos, that would be great! They're over on the studio YouTube channel (Novasound)
And I guess just keep your eyes peeled on any of the band pages… The Girl Who Cried Wolf, The Miss's, St Andrews Fall, Broken Chanter and the studio – Novasound.
Discover more: The Girl Who Cried Wolf | Novasound
0