Scottish producer and musician, Joe McAlinden delights with his debut chocolate cake.
As we continue to quarantine ourselves in the fight against the coronavirus pandemic, we drop in on some of our music pals to find out how they are coping.
We said "hello" to Scottish musician, producer and songwriter Joe McAlinden.
Joe used to be in a band called Superstar between 1992 and 2000, who were originally signed to Creation Records by Alan McGee and went on to release seven albums.  Joe has also collaborated/written with a host of acts including Teenage Fanclub, Rod Stewart, Big Star/Alex Chilton, BMX Bandits, Matthew Sweet, Jim Lambie, Alan Warner, BBC Scottish Symphony Orchestra, Edwyn Collins and many more.
Inspired in part by Edwyn Collins, Joe launched a new project, Linden in 2012 and released two albums including the critically acclaimed, Bleached Highlights.
From his studio in Argyll he is currently producing/writing/publishing and developing new artists including, JR Green, Ess_Gee and Maebh through the label, Single Track.  He is also at work on his first ever solo album.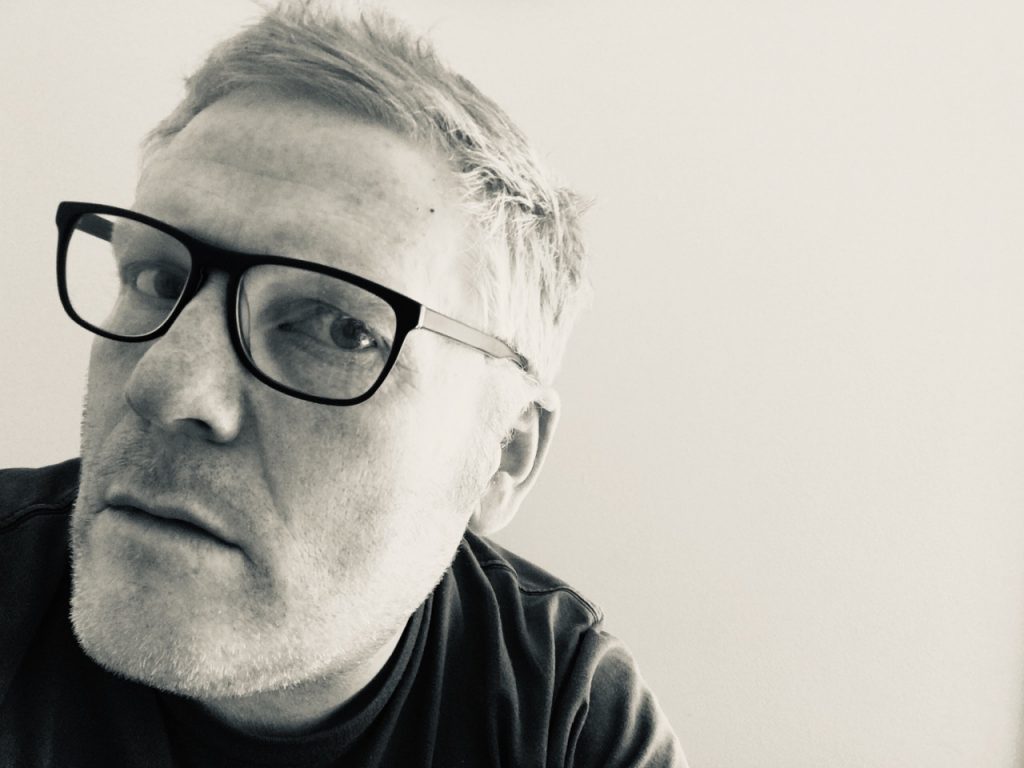 Are you keeping well and how are you spending lockdown?
All is good here at Team McAlinden.
We're spending lockdown with a little mix of everything: Home-schooling, dog walking, Netflix-watching, Family Trivial Pursuits, music recording –  I have a smaller make-shift set-up here at home which enables me to continue working with Ess_Gee, JR Green and my first ever solo LP.
Does music mean more to you now than ever and how are you responding to it creatively?
I'm certainly listening to more music now than ever before but music has always played a huge part in my life… it keeps me sane!!
What music are you listening to right now?
All sorts of everything. Mostly checking out new stuff to be honest and still hugely loving Norman F**king Rockwell. New Baxter Dury LP has hit the spot and can't tear myself away from Phoebe Bridgers – Stranger In The Alps LP… Listen to the song 'Funeral' if you haven't already… so beautiful.
Have you discovered any music gems during isolation?
I've gone in the opposite direction!!! I've found quite a few things, both old and new, that are really 'not for me'.
Get fit or embrace the bulge?
Living in a remote part of Argyll, we're lucky to be able to get out walking without bumping in to anyone so I'm staying as active as possible.
I'm also drinking wine!!
Have you been surprised at the contents of your kitchen cupboards? And have you made anything delicious from said contents?
No surprises but I have made my first ever chocolate cake… ever!!

What habits have started to form or are starting to fade?
You'd have to ask someone else that one. I feel I'm still me.
What random things are you buying online?
So far, I've only bought a genuine ex US military woodland Gore Tex parka and some bathroom tiles.
What are you doing to keep motivated? (Because by fuck it's hard)
It's hard for sure but I'm right in the middle of a few projects both for myself and Single Track HQ so I have no problem keeping motivated:
By the end of the year I'll have released 4 new LP's both old and new (can say no more) AND, more importantly, I'm smack bang in the middle of the fantastic new JR Green LP and releasing new Ess_Gee tracks 'Teenage Delinquent' single and all new PDF Depression EP.
What are you most looking forward to doing again this is all over?
Being with my friends and family.
And finally, have you anything you would like to plug or declare?
Plug
New Ess_Gee single and film 'Teenage Delinquent' – film dropped this week, music available digitally from 17/04 on Single Track.
The following week we drop Ess_Gee – PDF Depression EP featuring 'Kiss Me Hard', 'Remember Me', 'Pyromanic Lover' and 'Kill The Lights'.
Declare
The new JR Green LP is going to be very special indeed.
Discover more about Joe McAlinden via his official website.
0