Jonny Watt from Scottish postpunk-noir band, Foreignfox shares life in lockdown and video for new single, 'Exit Frame'.
Scottish band Foreignfox formed in late 2013 and have gained a reputation for their passionate live performances and powerful songs.  Live, the band deliver a serious and authentic rock energy and the emotion that fills each band member is such an experience to watch.
Since the release of their debut single in 2014, the band have supported the likes of British Sea Power, Big Country and We Were Promised Jetpacks, headlined venues across the UK and performed at festivals including T in the Park, Kendal Calling and Electric Fields and XpoNorth in Inverness.   Foreignfox have also been included Vic Galloway's '25 Scottish Artists to Watch' before recording a live session for BBC Radio Scotland.
Check out the Netsounds session of their compelling 2017 track  'I Used To Be A Bellydancer' here.
Opening with pulsating synths and a wall of crashing guitars and plush harmonies, new single, 'Exit Frame' is the bands most thrilling work yet.  It ushers in a more expansive crushing sound and is a startling return to form for the Dunfermline band.
Existential themes of inability to change, addiction, vices and isolation ring unsettlingly close to home during these troubled times, personified in opening line – "My distilled dream, tried my best to stay clean, it's such a shame I'll always stay the same"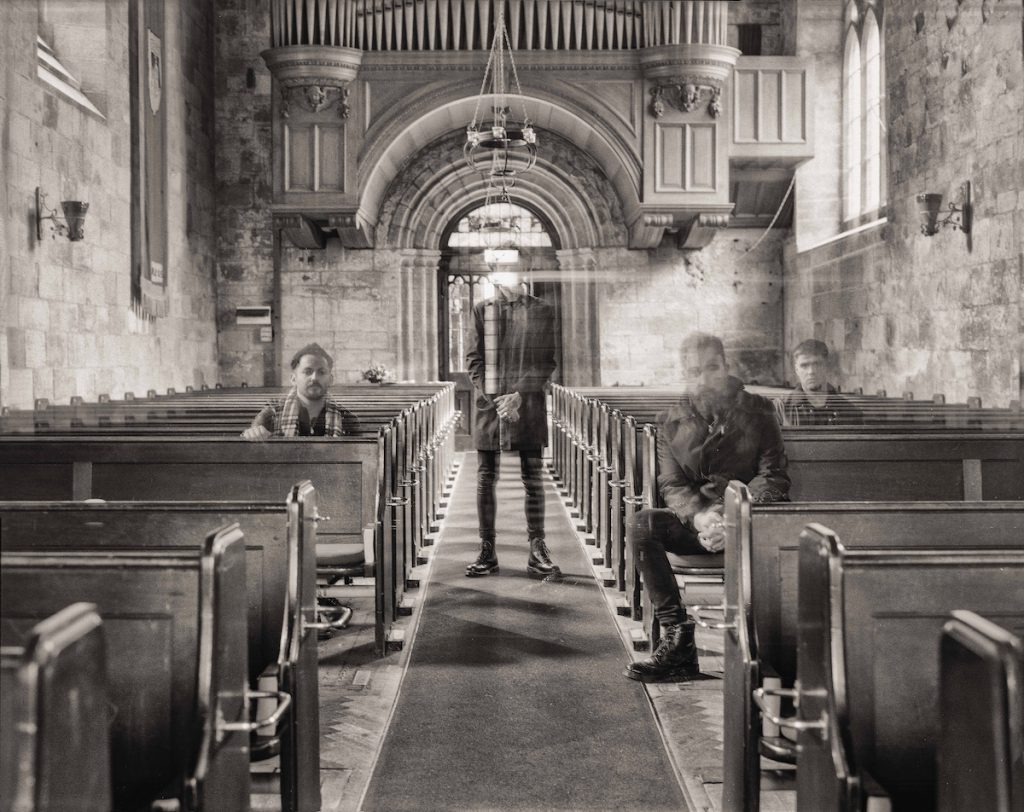 Are you keeping well and how are you spending lockdown?
Very well thank-you. There's been a few moments where it can get a little frustrating but I think I've managed to suppress all those feelings, and now I'm beginning to embrace time at home.
I would love to say I'm being incredibly productive and going for a run every day, but instead I can't walk past the fridge without having a look.
Being able to write very late night/wee hours of the morning again is one of my forgotten pleasures that I've been able to take back up. I used to find inspiration strikes most at between 3am and 5am. Apart from that I've been doing some gardening and various DIY jobs around the house. Sometimes I'll lay on the couch and stare at the ceiling for a bit, so you know, peaks and troughs.
Does music mean more to you now than ever and how are you responding to it creatively?
I've always had this incredibly intense relationship with music, but yes, being able to decompress and listen to music properly again, giving an album days on end to develop in my mind, or even catching up with things I have been meaning to listen to for a longtime. There was a point last year I had to stop listening to anything for a few weeks to give my head a bit of a clear out, not realising that it was music that would ultimately help me reset. It means more now than it ever did.
Creatively, I'm being as reflective as possible to avoid writing about and getting locked in to the whole quarantine situation. Trying my best not to get fixated with it because it's still going on if you get what I mean. Photography is something I've started to take up as a way to focus on the beauty of my surroundings on the coast, I forgot what it was like to just look across the Forth and listen to the water.
What music are you listening to right now?
Right this second, I have David Bazan – Strange Negations album on in the background. I've been listening to lots of Bon Iver, Slowdive, Lucy Dacus, Anna Calvi & Big Thief, re-visited the Mastersystem album. Infancy by the Ninth Wave. The Blue Angel Lounge – In Times album. New track The Void by Sunstinger too.
Have you discovered any music gems during isolation?
I recently found out about a new band from Perth – Post Ironic State. It's like a mixture of Interpol/The Cure and Electric Youth. Dark, synthy good stuff.
You know what, I had never listened to Yeezuz by Kanye West in its entirety before. It was likely ahead of it's time for 2013, but it's definitely an experience from start to end. It's schizophrenic, has some really invasive electronic instrumentation, in your face creativity & experimentation. I've really grown to love it.
Get fit or embrace the bulge?
I believe those in the fitness industry call it bulking? I'd actually started a health kick at the beginning of this year with swimming and running etc. leading right up to lockdown (I know this is not an excuse) then I stopped. Embracing the bulge at present. I tell myself every night I'm gonna turn it back around in the morning, but then I decide my guitars look a little lonely, so I choose them instead. I try getting out for a walk as often as possible.
Have you been surprised at the contents of your kitchen cupboards? And have you made anything delicious from said contents?
I've been cooking with Thai, Indian, Korean and Japanese recipes. Fenugreek has become my new favourite herb, Chicken Saag new favourite recipe.
Can't say I've done an Epic Meal Time deal where I've made a triple sausage, egg & bean Yorkshire pudding burrito or anything like that. Although that does sound delicious.
What habits have started to form or are starting to fade?
Starting to form, looking in the fridge every-time I walk past. Starting to fade, rehearsing with the other guys. I really can't wait to get back in the practice room.
What random things are you buying online?
We bought a new tabletop for the garden table. The last one was made of glass and it was very windy one night. So far, I think I've resisted the temptation to buy shite. Oh, actually – A Game of Thrones themed Monopoly. Wow, I've surprised myself with that one. How long have we been in quarantine for now?
What are you doing to keep motivated?
I'm still currently working from home, writing, being creative, doing odd jobs around the house, cooking & delving into books and movies. Plenty to keep me distracted from realising I'm not particularly motivated.
What are you most looking forward to doing again this is all over?
Playing gigs and getting on it. Once this is all over, I'm out for days.
 And finally, have you anything you would like to plug or declare?
Our new single Exit Frame is out this Friday (15th May). We also have a bunch of very cool new merch that's available over at our Bigcartel. 
Our old Instagram just got hacked so it'd be great to plug our new one @weareforeignfox.
'Exit Frame' will be released digitally on 15th May, and is available to pre-save on & pre-order at foreignfox.bandcamp.com.