Scottish singer-songwriter Katie Gregson-Macleod shares what life was like in lockdown.
Katie Gregson-MacLeod is a 19 year-old singer-songwriter from Inverness in the Scottish Highlands.  Since making her festival debut at Belladrum Tartan Heart Festival 2019, the young artist has gained momentum through playing a number of support gigs for artists such as Emme Woods and Moteh Parrot and performing at the January Sofar Sounds Inverness show.
Most recently, the artist sold out her first solo show, an intimate acoustic evening in Inverness, supported by local singer-songwriter and multi-instrumentalist Nicky Murray.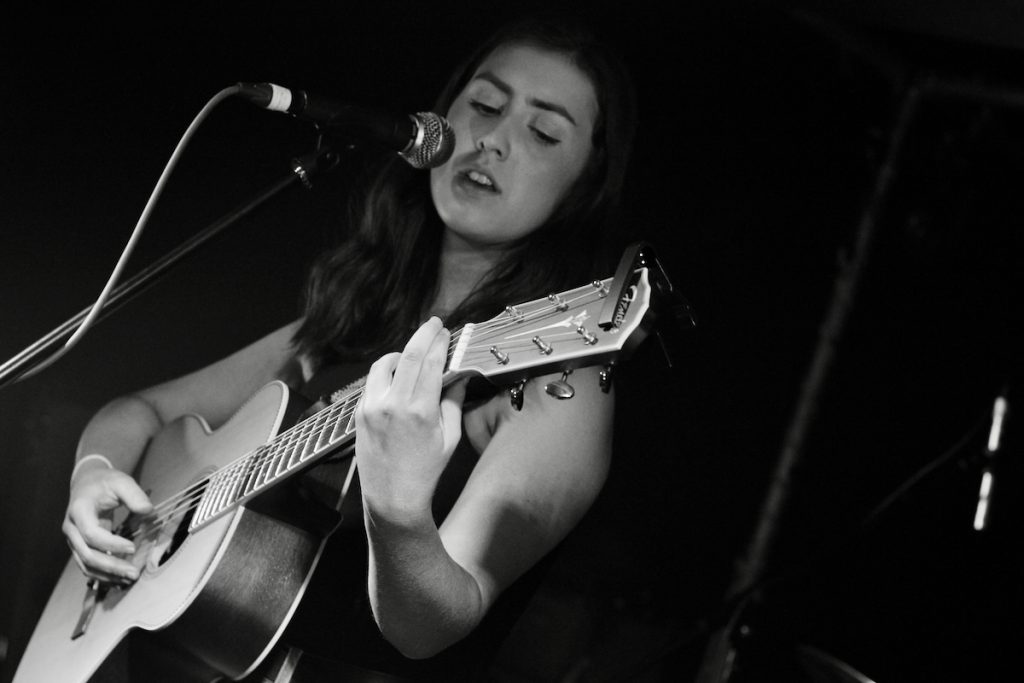 Are you keeping well and how have you been spending lockdown?
I'm doing well and just taking this forced break from normal life as a chance to rest and reset mainly.  Just before lockdown was announced I moved out of uni halls in Edinburgh within 24 hours and I'm spending this period back home in Inverness. At the beginning, I was predominantly finishing off uni work but now I have basically just started rewatching TV series – currently, The Office and Lost are consuming my life. That being said, on the more productive side, I have spent a fair bit of time trying to learn my way around Logic and producing some of my own music – still very much a beginner but I'm having a great time.
Does music mean more to you now than ever and how are you responding to it creatively?
My relationship to music feels a wee bit different right now I suppose; it feels quite odd writing about the things I would usually write about but comforting in equal measures.   This isolation period has definitely brought me closer to other musicians and a unique sense of community has developed I suppose in the shared experience. I'm taking advantage of the time by chatting to other musicians, collaborating with my pals, branching out artistically and learning new things and it's been really important for me.
What music are you listening to right now?
I've been listening to a wider range of artists than ever before just with having so much extra time and I'm loving it. Right now, I find myself listening to a lot of Matt Maltese, Rex Orange County, Daniel Caesar and the music of some of my talented singer-songwriter pals like Nicky Murray and Marina Rolink.  Also listening to a lot more soul/ R&B/ jazz,  including Amy Winehouse, Celeste, Sam Cooke. Basically just trying to get a good variety, it's been grand.
Did you discover any music gems during isolation?
I'm incredibly late on the bandwagon but only recently discovered Jacob Collier and am absolutely in awe; his song 'Make Me Cry' is my favourite I think. Along a very similar frequency I've been hooked on Doja Cat recently. It's been sonically diverse.
Get fit or embrace the bulge?
Get fit (in theory)! I'm a squash player so I've really been missing that and how fit it keeps you but I've been doing workouts at home and have been on the occasional run. The only pitfall is the increased free time which will inevitably be filled with pasta and Easter egg chocolate but no complaints from me.
Were you surprised at the contents of your kitchen cupboards? And did you make anything delicious from said contents?
Definitely when moving out of uni! I had more tins of lentils, chickpeas and kidney beans than I could possibly have used myself but now everyone at home is thanking me because we can make lots of veggie chilli and all those good things.
What habits started or faded during lockdown?
I used to be terrible for not going outside for a walk unless it was to get to classes or something but I've been trying to get out the house for a walk (or run, usually not) every day.  I'm very lucky to live just beside the islands in the centre of Inverness so have been very grateful for my daily walks by the river ness.  I've also adopted the habit of having luxurious baths with wine in hand almost every night and I haven't looked back since.
What random things did you buy online during lockdown?
All in all I've been fairly good at restraining myself;  I did buy some joggers but that doesn't count because loungewear is essential shopping in current times. However, I can't stop looking at house plants online as I am determined to make my room look like a jungle so I'm afraid there may be a small tree or two appearing at my doorstep one day soon.
How did you keep yourself motivated?
Motivation has definitely come in waves for different things.  I had a couple weeks where I made music pretty much non-stop and I guess I was largely motivated by the music I was listening to. As I said I've been trying to listen to a range of styles so naturally that has led to a lot of experimenting with my own work.  In terms of exercise, finding motivation is difficult so if I don't do it pretty much first thing then it's so much harder to motivate.  I am highly motivated in the binge-watching of TV shows however, so if anyone needs tips in that department I can offer them.
What are you most looking forward to doing again this is all over?   
Too many things come to mind but obviously seeing family and friends is first on the list; lots of birthday, anniversary and graduation celebrations have been missed over lockdown so we'll have a lot of catching up to do.  Also, I'm really looking forward to getting on stage again, whenever that will be, and experiencing the good vibes of live music for the first time in a while.
And finally, have you anything you would like to plug or declare?
As I mentioned, I've been working on producing some of my original work and have got a single coming very soon. I am releasing 'Still A Sad Song' on 17th July. However, in the meantime, I have been putting some of my music on Soundcloud so definitely follow me on there/ on the socials if you're wanting to stay in the loop. Also, I co-wrote and sang on the new single of a group I'm a part of called 'Lazy Money' which is now on all streaming platforms. It's called 'Jazz' but if you're one of those crazy people who is not a fan of jazz, don't fear, for it's actually not jazz.
Katie Gregson-MacLeod releases debut single 'Still a Sad Song' on July 17th 2020. Netsounds will be premiering the video on Wednesday 15th July.
Discover more about Katie Gregson-MacLeod: Instagram | Facebook | Twitter
0