Leo Bargery, frontman of Scottish alt-rock band, Mt.Doubt shares life in lockdown and new single, 'Caravans On A Hill'.
Mt. Doubt formed in 2015 as the project of frontman Leo Bargery and in the same year released their brilliant debut, My Past Is A Quiet Beast.  Their second album, In Awe Of Nothing drew critical acclaim from the likes of The Herald, The National, The List and The Skinny as well as radio play and sessions on BBC 6Music, BBC Radio Scotland, XFM and Amazing Radio.
Live, the band is an atmospheric and energetic beast with a set of songs that can arrest an entire room with their tight musicianship and Leo Bargery's deep baritone voice.
New single, 'Caravans On A Hill' sounds like a more pumped up Mt. Doubt. Those aware of the band will recognise the familiar guitar riffs and dark and atmospheric sound.  But this sounds like a band hitting cruise speed on the track and ready for the take off.  'Caravans On A Hill' is taken from their forthcoming third album (due in September) via Last Night From Glasgow.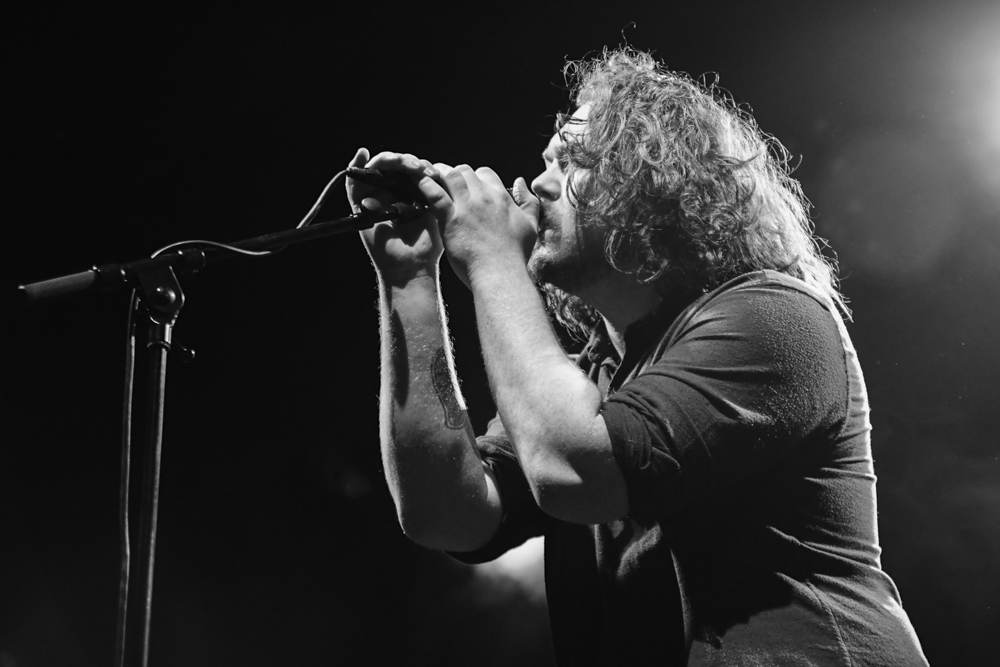 Are you keeping well and how are you spending lockdown? 
Howdy, I'm keeping strangely well (touch wood), thanks for asking! These are bizarre-o times, but there's something I find oddly comforting about the imposed day-to-day restrictions. I'm back at my mum's house, in purest isolation; I haven't crossed the threshold in 8 weeks. I've been playing a lot of piano, reading a little less than I ought to and honing my keepy-uppies in the sun.
Does music mean more to you now than ever and how are you responding to it creatively?
It always means a lot to me but I suppose that that's in even sharper focus than usual. It's a godsend really to be able to wile the hours away sitting at a piano. Usually I'm not one to 'sit down to write', but I've been approaching it with a much more regimented attitude lately and so far I've written 12 new tracks! It's a really great opportunity to commit time to your creative pursuits, if you're able.
The live-streaming 'scene' is also booming and it's been nice to do little living room sets and interact with people listening/watching live! I do one a week (Thursday evenings on Facebook!) and they're always something to look forward to, for me if no-one else.
What music are you listening to right now?
Oh, what have I been enjoying… the latest offerings from the upcoming Perfume Genius and July Talk albums are sounding brilliant! The recent records from Laura Marling, Waxahatchee and Morrissey (I know, I know, boo, hiss etc) are all really good too! I've also been getting back into Suede in a big way.
Have you discovered any music gems during isolation?
I had a bit of a moment with Yola's 2019 record 'Walk Through Fire'. It's this really timeless soul-pop-country amalgam which is just absolutely perfect for me. One of those rare albums that had me smiling start to finish.
Also check out Westerman if you haven't heard him, the track Blue Comanche is exceptional.
Get fit or embrace the bulge?
Haha! I think I embraced the bulge for too many years so I've actually been trying to be healthier for a wee while now, something which I'm happy to report has continued into lockdown! There's absolutely zero shame in taking a day (or days) off but my daily workouts have really, really helped me feel focused, motivated and able to maintain a  more even-keel emotionally.
Have you been surprised at the contents of your kitchen cupboards? And have you made anything delicious from said contents?
I'm ashamed to admit that having returned home I have all but regressed to my adolescent state; I'm being cooked for by my wonderful mum! She's cooking up a storm and has made some sensational banana loaves, roast dinners and homemade burgers! Morrisons home deliveries are a life saver.
What habits have started to form or are starting to fade?
I'm spending significantly more time actually practicing playing the piano and writing songs so hopefully that might forge a new habit that could elevate my songwriting! On a more negative slant, my sleep patterns are getting a little wild, I'm often found hours deep down YouTube rabbit holes around 3AM, pondering the big questions…like how do you pronounce the name of Elon Musk's child, X æ A-12?
What random things are you buying online?
So far I have bought absolutely nothing. I have a long list of things I'd like to buy (a laptop, clothes, records, books, microphones, keyboards, a car etc) but I figured now is a time to save some pennies and plan ahead!
What are you doing to keep motivated? 
I find routine very motivating, actually just doing anything you set out to do is a real spur to the side. Working out, reading a chapter of a book, hoovering, making a breakthrough on that tricky third verse, it's like dominoes; just got to keep them falling. I also find having things that punctuate that routine important, so catching up with friends regularly, quizzes, film nights, those silly things are little peaks of breeziness.
What are you most looking forward to doing again this is all over? 
To be honest, I'm not sure I'll ever leave the house again… I've been separated from lots of people who are very important to me (as we all have) so I'd like to hug them all. I'd like to go to the Cambridge Bar with my dad to watch my beloved Chelsea FC (which is our weekly tradition) I'd like to go to Assai Records, Golden Hare Bookshop, Frontiersman and The Pastry Section in Edinburgh to spend money I don't have. I'd also like to go to the sea.
And finally, have you anything you would like to plug or declare?
I'm not one for declarations, but we have had two singles out this year so far via Last Night From Glasgow! In March we brought out 'Headless' and last week we released 'Caravans on a Hill', so it would be really great if people wanted to check them out!
Discover more about Mt. Doubt: Facebook | Instagram | Spotify
All images © Al Donnelly