Campfires in Winter lead vocalist and guitarist Robert 'Boab' Canavan to play lockdown live stream.
Campfires In Winter are a Glasgow-based, alternative, indie-rock band renowned for their powerful and dramatic live performances and Boab's distinctive Scottish brogue.
The handsome four-piece who originated from Croy combine unique post-rock guitar sound and solid rhythm section with glorious harmonies that has earnt them a strong following since forming in 2010.  Following their debut single 'White Lights' (2013) and a handful of EPs and frequent gigging across the land, the band released their debut LP, Ischaemia, via Olive Grove Records in 2017.
Boab is gearing up to take part in Olive Grove Records Live Stream on Facebook this Thursday (7th May) from 7:30pm.  The first ever Olive Grove live stream will feature shorts sets from a number of Olive Grove artists including Adam Ross from Randolph's Leap, Moonsoup, Broken Chanter, Campfires In Winter, Jo Mango and Carla J. Easton.
Click here to join the Olive Grove Live Stream.
Campfires In Winter are: Robert Canavan (lead vocals, lead guitar), Scott McArthur (keyboard, vocals, guitar, brass), Wullie Crainey (bass guitar, vocals) and Ewan Denny (drums, percussion).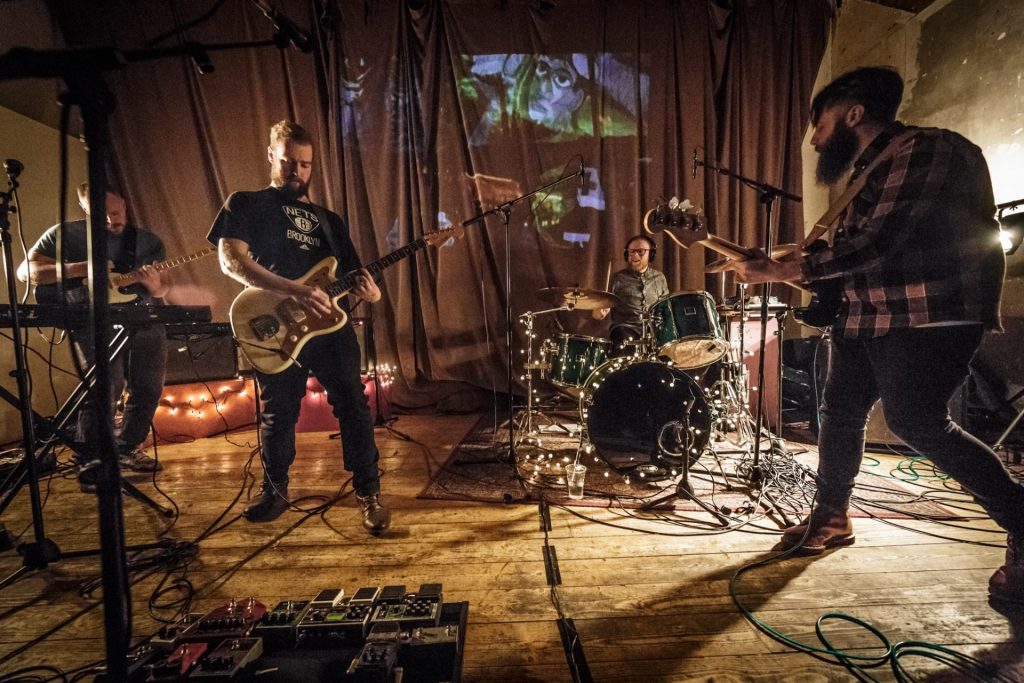 Are you keeping well and how are you spending lockdown?
Thankfully I'm doing okay! My girlfriend and I moved into a new flat – our first time living together – just before lockdown, so I'm spending lots of time stripping walls and painting and doing other various bits that I don't really have a clue how to do. I'm sure I'm single-handedly at fault for the spike in YouTube DIY tutorial views.
Does music mean more to you now than ever and how are you responding to it creatively?
I'm not feeling in a very creative space just now. I think that's down to the whole situation and just how unsettling and anxiety-inducing it all is. Or maybe it's my living environment in that everything really is all over the place, boxes and sheets everywhere etc. But listening to music is definitely helping – particularly 6Music. I think we'll see a renewed interest in radio as this situation starts to calm down. I get the sense that many people are using radio as their way of staying in touch with the real world while they can't experience the real world properly.
What music are you listening to right now?
Right this second? Elaine Paige on Radio 2, she's playing 'Barcelona' from Sondheim's Company. I've also been listening to the new Fiona Apple album, Waxahatchee, Thundercat, The Skids, Pixies, New Order, Rush, Leroy Hutson, Broken Chanter, Willie Hutch and some other Motown stuff.
Have you discovered any music gems during isolation?
Fiona Apple's Fetch the Bolt Cutters is one of the best things I've heard in a long-time, a truly stunning album. I first heard UWA by Pongo a few weeks ago and can't get enough of it. Same with the new Twilight Sad live album. And every few days I come back to Vasa's new album Heroics – it's a masterpiece.
Get fit or embrace the bulge?
I've definitely been embracing the bulge but optimistically downloaded the Couch to 5K app the other day. I don't particularly enjoy home workouts, so I'm going to give running a go. I find the mentality of running difficult though – it's hard to find the drive to run when there's nothing to really run to, or for, you know? It's just you running and the voice inside your head going "this is boring, why are you making me do this? There are nice biscuits at home, and books." Stick a football at my feet and I'll run for days though. Maybe that's the solution…
Have you been surprised at the contents of your kitchen cupboards? And have you made anything delicious from said contents?
My girlfriend and I have been cooking more than ever. She bakes lots, and makes fantastic soups with whatever happens to be lying around in the cupboards. We've made some great pasta dishes just by flinging together some leftovers and weary looking veg. Here's one from last week: Cook a few handfuls of pasta in well-salted water. Chop that sad looking onion, sauté it with your last two garlic cloves, fling in a couple of chopped link sausages leftover from breakfast. Chuck in some parsley, rosemary, thyme, salt, pepper, then some double cream and let it thicken. Stir a splash of salted pasta water through your sauce and let it simmer while draining the pasta, then mix and serve.
What habits have started to form or are starting to fade?
I'm still trying to get up at a decent time every day which is good, but I've noticed my insomnia is creeping back in. Then when I do get to sleep, the dreams are vivid and unsettling. I think those are products of just a general lack of everyday stimulation. When you're not out and about, doing your commute, interacting in person with workmates and pals, but living a limited life instead, your brain is going to be under-stimulated. Probably why it's deciding to have a bit of fun at night.
What random things are you buying online?
We've bought some actually useful household stuff that we had to get so we weren't living in a shell. Random things though; a cocktail shaker kit, a coffee machine, candles, and a couple of Sonos speakers which have been LIFESAVERS!
What are you doing to keep motivated?
Trying to video chat with pals and family regularly, strumming my guitar when I can, getting out walks and enjoying local parks.
What are you most looking forward to doing again this is all over?
Seeing my mum and dad and pals again, pasta and pizza in Gulp, a cocktail in Phillies, and getting together for the first Campfires rehearsal in AGES!
And finally, have you anything you would like to plug or declare?
Yes! This Thursday I'm playing a wee solo set live on Olive Grove Records' Facebook page. And we've also kept our prices low on our Bandcamp, so head over there and treat yourselves!
Discover more about Campfires in Winter: Facebook | Instagram | Twitter | Bandcamp