Scottish radio and TV presenter, Vic Galloway on baking bread during isolation.
We dropped in (via email) on Scottish broadcaster, DJ and musician Vic Galloway to find out how he is coping with lockdown.
Vic is best known for his long-standing weekly show for BBC Radio Scotland which champions new, alternative music from Scotland and beyond.  He is also heard regularly popping on BBC 6Music deputising for the Marc Riley Show.
Galloway has also presented a number of arts documentaries for television and regularly contributes to newspapers, magazines and websites.
In 2013 he wrote his first book, Songs in the Key of Fife, and in 2018 published Rip It Up – The Story of Scottish Pop.  Vic has also played in various bands with James Yorkston and King Creosote as a key member of the Fence Collective.  His latest endeavour is Check Masses.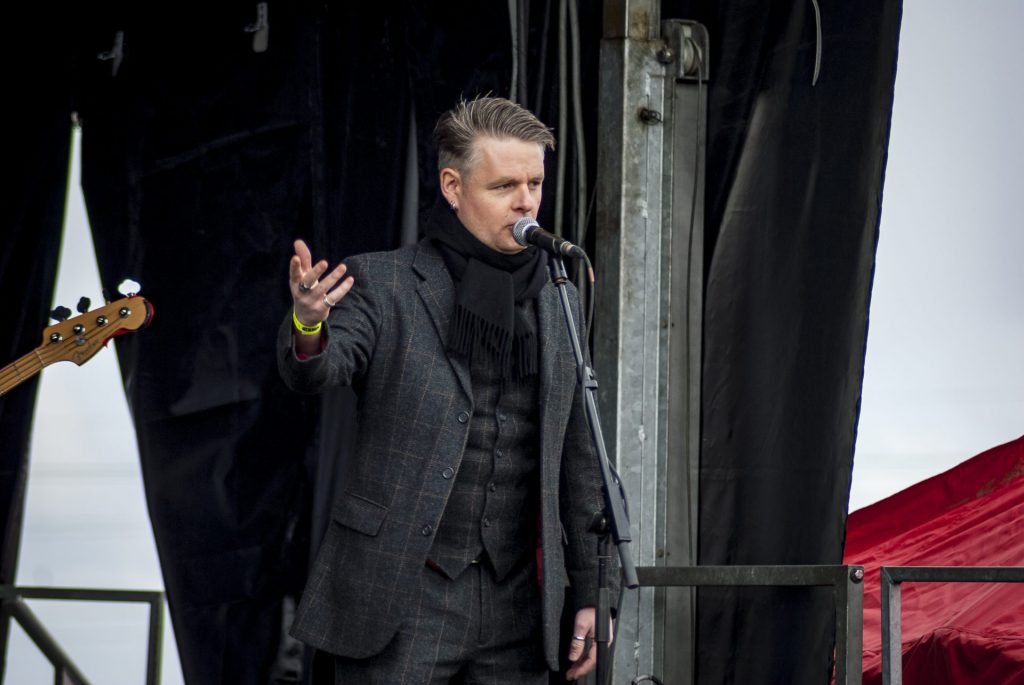 Are you keeping well and how are you spending lockdown?
Yes, I'm safe and healthy just now thank you. I'm in my Leith flat with my girlfriend and our dog – it could be a lot worse. I get out for a walk or a run each day thankfully, and I'm still managing to present my weekly BBC Radio show LIVE. Sadly all my freelance stuff has vanished and like everyone else I'm learning to live 99.9% of my time in the house! I'm tidying up my music-room/study just now with vast amounts of vinyl, CD's, posters and junk everywhere. I think the last time I did this was 10 years ago, so there's lots of dust and rubbish in here. I've got time though, and it will look good when it's finished.
Does music mean more to you now than ever and how are you responding to it creatively?
Music is always a solace and a salvation – listening to it, making it, watching it or even reading about it. I have been listening to loads as usual, watching music documentaries (I enjoyed the ZZ Top one!), reading books and articles on different people, and making my own tunes for my band Check Masses. It's a good escape from the grim daily news and restrictions! Being creative and using this downtime to think is hugely important.
What music are you listening to right now?
In my job I listen to loads of new music and I'm currently enjoying Rudi Zygadlo, Jill Lorean, Lomond Campbell, Nick Hakim and Katie Von Schleicher amongst others. I've also been revisiting lots of Alternative 90's classics – I have a BBC special coming up on Easter Monday. I've been rediscovering and enjoying Ween and Firehose for example.
Have you discovered any music gems during isolation?
Yes, I've always wanted to listen to Yellow Magic Orchestra… and never quite managed to, for some reason. So I've spent a bit of time listening to them. They featured Ryuichi Sakamoto, who went on to make lots of amazing film scores, and were sort of Japan's equivalent to Kraftwerk. Their stuff is definitely original, and sounds almost like a cross between 70's/80's computer-game music and jazz-funk… if you can imagine that. Search them out!
Get fit or embrace the bulge?
Oh man, I feel like I'm piling on the pounds just now… I'm getting to that age anyway, with a tyre growing around my waist!! My girlfriend and I are cooking and eating quite well whilst in lockdown too… but I'm trying to walk or run each day, and opting for more salad when possible too!! I have to stop the snacking though…
Have you been surprised at the contents of your kitchen cupboards? And have you made anything delicious from said contents?
We've started baking soda bread, which is surprisingly easy to make and tasty to eat! We've also made some great Thai green curries using left-over veg and cashew nuts. Again, easy to make. For some reason my cupboards are full of jars of chutney… I've received loads for Christmas from BBC colleagues for years!! I've just opened some actually, and it was pretty darn good. It'll take me years to get through all of them though.
What habits have started to form or are starting to fade?
I have to admit, I've been getting up late! I am a night owl due to my job, playing gigs and my love of live music, so I tend to have late nights and not so early mornings. I've found myself waking up later and later though – but I'm putting a stop to it. I think it was the initial timeless feeling of lockdown that brought this on. My visits to the pub and to live gigs have completely faded sadly… They will return though!
What random things are you buying online?
Thankfully I've resisted internet shopping so far. Maybe an exercise bike might be an idea though…
What are you doing to keep motivated? (Because by fuck it's hard)
I'm normally quite an impatient person but I'm not panicking too much, or beating myself up for not doing a million things each day. I realise we are in this for the long haul, so I'm trying to get a few important things done each day. My motivation is the end goal… a tidy room, an organised diary, some new music written and a few books read. These things take time.
What are you most looking forward to doing again this is all over?
Hanging out with my brother and my pals, going to the pub and seeing some live music. Just the basics really. Oh and travelling to further away places… I've had a few trips cancelled/postponed because of this, including a trip to see Bauhaus play in London, and an invitation to play a festival in Portugal with Check Masses. These things will eventually happen though I hope.
And finally, have you anything you would like to plug or declare?
The band I play in, Check Masses have just released our 2nd single 'Lonesome Little Paradise'. It's a great wee tune, with a lovely accompanying video. Releasing music during a pandemic has been tough, to say the least. We planned it for ages and it came out just as the lockdown was happening… total bummer! We would love people to hear it, stream it, buy it and watch the film. Get involved folks!
Discover more about Check Masses here.
Vic Galloway on BBC Radio Scotland | BBC Podcast: Scotland Introducing | Vic Galloway on Twitter | Vic Galloway on Facebook
0