Scottish indie rock band, Neon Waltz talk to Netsounds ahead of their Scottish headline dates.
In advance of some special Scottish live dates in May, Neon Waltz took time out to speak to Andy McConnell.  You can also listen to their Netsounds Takeover Playlist on Spotify here.  See below for full list of dates.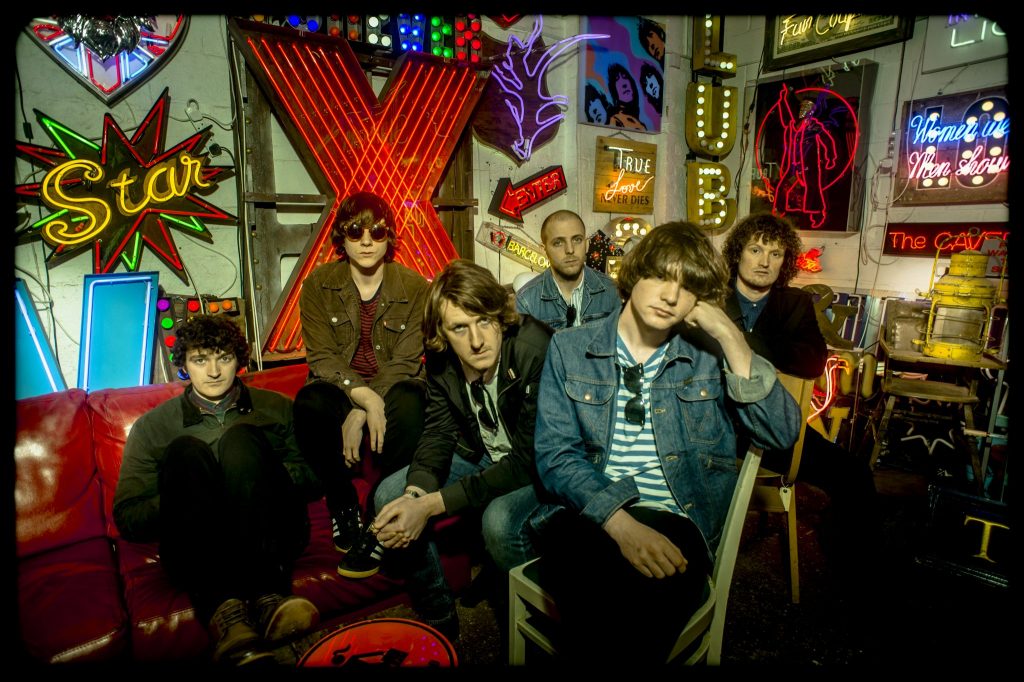 You  play The Ironworks in Inverness on May 12th in your first headline show at the venue. For people who have not seen the band live before, why should they go to the gig and what can they expect?
This is a live band through & through. Our songs were all written live & they were all recorded live in a room together. We did an alright job of capturing that noise on record but if you really want everything this band has to give you, see it live. Come for all the obvious reasons but make sure you come because your up for havin' your head blown off by a band whose only intention is to blow your head off. We'll play songs from the album, the EP and because were in the thick of writing new songs maybe we'll road test a few.
The band recently supported The Sherlocks on their UK tour and, if social media is any barometer, your sets were very well received by the crowds and won new fans at every gig. How pleasing was it to receive that reaction from another bands crowd?
Yea, as far as tours go that was pretty successful. We're used to working hard to gather fans one by one so it was nice to see them kinda flood in. Actually, the first night was a bit odd, the crowd seemed a bit like 'what the fuck is this?' and we're now nervous because we have another 12 nights with a mismatched audience but from the next night it was a total different story. They were all right up for it. They've got a good bunch of fans there.
What has been your favourite/best gig as a band?
We've done some cool gigs along the way playing with bands we love like The Coral & I know playing the same bill as Johnny Marr & Noel Gallagher is some folks' dream but if I'm totally honest any show from our last tour was the best of them all. Playing to a room full of people there to see you and then have them sing the songs back is really what it's all about. That's was the mission, now we want to increase the scale.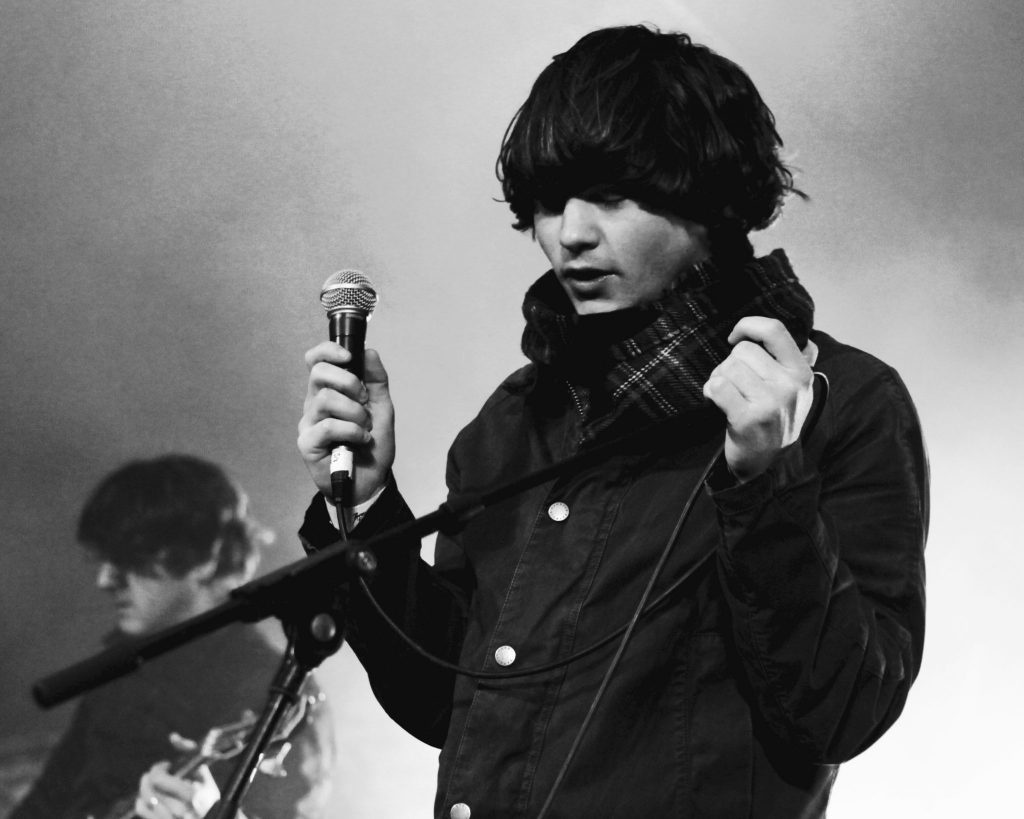 With the documented creative issues with Atlantic Records leading to leaving the label and delaying the eventual release of your debut LP, Strange Hymns, how did it feel to finally unveil the record to the public?
Getting the first album out was our greatest achievement as a band. It could be a daunting thought, it exists in the public domain forever now but we love it & we're very proud of it so that's fine. I suppose the worst part of that whole Atlantic thing was that we felt a bit cheated, the time wasted robbed us of our momentum. That momentum is crucial for a new band releasing a first record & I dunno if Strange Hymns came out at the optimal time for us but we certainly couldn't hang onto it any longer. The reception it got was insane, it meant a lot to certain people & that matters to us. People say things about it that reassures us that dedicating everything to something is definitely worthwhile.
The LP was well received by the music press and featured in several 'Best Of' lists for 2017 – how much heed do you take of reviews, good or bad?
I don't think too much about reviews. I suppose everyone likes a good one but bad ones can be pretty funny. I actually read this one that said something about us all becoming teachers in a few years. It was a negative comment. I felt the Dipshit that wrote it ought to have a little more respect for the teaching profession if he thinks 6 failed musicians should automatically get to be teachers. But yea, you can't get hung up on someone's opinion too much, whichever way it goes.
Where do you usually gather song writing inspiration and what is your usual song writing process?
We're trying to change our process a little now but for this first record we've did it all the same. We send ideas around or meet up & play them to each other – usually just little verse/chorus things. We'll play that as a band round & round for ages and it'll gradually develop some shape. We each take away a Voice Memo of that and come back the next day having picked out the nice bits and just go again. It can take take days or half an half an hour sometime but once it's resembles something cool we'll work really hard on crafting the song & structure a bit more. The influences genuinely come from anywhere or anything- a band; a song; a sound; a feeling; a film; a story; history; weather; your surroundings; the news. There's much more than that and it's quite often something new.
Do you have a favourite song on the LP and what is your favourite track to play live?
Everyone in the bands favourite song on Strange Hymns is Veiled Clock. It's probably the most unique but it also puts me to a specific time & place – an early exciting time for us as a band when we were finding our feet. It can bring a tear to my soppy eye. As a drummer, it's the one I'm most proud of & I love the sound. Live? We've played it in every Sound Check & every gig since day one and it's still a blast – so I'll say Bare Wood Aisles – there's just something about it. That's like picking a favourite child though. Unfair question. I feel like I have to make it up to the others now.
What are you listening to at the moment?
It's been a bit all over the place recently. I found Childish Gambino only short ago – I like it, it's really interesting but I dunno if it'll stick with me forever – then Lukas Nelson more recently. I had a Country soft spot sewn into me at a young age & Lukas is much closer sounding to his dad than what people now label Country music. But really I think everyone should listen to a band called Floating Action. It's a guy rather than a band but all of it is incredible. Best thing I found in the last few years.
If you could collaborate with one musician, who would it be and why?
Tough question. I'll try to answer on behalf of the whole band. I think we'd all like to work with The National or the Aaron Dessner really – mainly because they're amazing but also because their new studio in the Hudson Valley looks class and we need the holiday. That answer is a bit serious – scrap it, Charles Bradley if he was still with us.
Finally, what are the band's plans for gigging and recording for the rest of 2018 and beyond?
As I say, we're busy writing just now. We're writing with open minds, no definite plan but I suppose we're working towards a second album and if it feels right then a few EPs along the way. What I will say is that there won't be the same wait for new music again. Live – we're pretty excited about these 3 Scottish dates. There are a few cool festivals & then we play Bellahouston Park later in the summer with Catfish & The Bottlemen, which'll be cool. And then more touring probably.
Live Dates
The John O'Groats six-piece are set to play some of their biggest headline dates so far in May:
10th May  – Dundee –  Beat Generator
11th May –  Glasgow –  King Tut's Wah Wah Hut
12th May –  Inverness –  Ironworks
Discover more about Neon Waltz: Facebook | Spotify | YouTube