Anti-folk artist Jeffrey Lewis is heading out on a series of acoustic dates throughout Scotland with his  hyper-literate and witty Canadian friends Mathias Kom and Ariel Sharratt from The Burning Hell.
They are heading off through Scotland during in September playing a number of intimate gigs including some very special house shows.
New Yorker Jeffrey Lewis is a comic book artist and indie-rock musician, sharing some aesthetic songwriting territory with the likes of Sebadoh, Lou Reed, Jonathan Richman or Kimya Dawson. He has been described by Pulp's Jarvis Cocker as the "best lyricist working in America".
Beginning with homemade lo-fi cassettes in the late 90s, and moving on to touring the world and releasing "proper" albums since 2001, Jeffrey's career has included sharing bills and tours with The Vaselines, The Fall, Stephen Malkmus & The Jicks, Roky Erickson, The Mountain Goats, Daniel Johnston, Devo, Pulp and many other luminaries.
In between his contemplative folk narratives and garage indie-punk songs Jeffrey is known for including illustrated songs in concert, sometimes covering historical topics (like "The History of Communism"), or strange flights of fancy (like "The Creeping Brain"). Usually touring with his full rock band, Jeffrey Lewis & Los Bolts, Jeffrey also occasionally tours as a solo acoustic act. Rough Trade Records (label of The Smiths, The Strokes, etc.) has recently released the seventh Jeffrey Lewis album, Manhattan, mixed by John Agnello (Sonic Youth, Dinosaur Jr., War on Drugs) and acclaimed in Magnet, Uncut, AllMusic, Les Inrocks and other press outlets; Jeffrey has self-published twelve issues of his comic book series Fuff, and his writing, illustrations, comic books and music have been featured by The Guardian, The History Channel, NPR and The New York Times.  His live shows are usually accompanied by a series of  projected comic-book-style illustrations sketched by the artist himself.
Ariel Sharratt and Mathias Kom are the core members of the Canadian band The Burning Hell, and have been on the road in one form or another since 2007, playing everywhere from the chaos of Glastonbury to the loneliness of the Arctic Circle, popping up in bars, festival tents, living rooms, abandoned bunkers, and a mental asylum in rural France along the way. Musically, the lineup and sound of the Burning Hell has been ever-changing, running the gamut from introspective folk to hyperactive rock and roll.
When Ariel and Mathias tour as a duo, the songs are stripped back and the storytelling and lyrics take center stage, whether it's upbeat pop songs, dark ballads about pet euthanasia, or anthems for barbarians, economic conferences, and love. Ariel and Mathias recently released their first duo album "Don't Believe The Hyperreal" and are preparing for the release of the eighth Burning Hell album, "Revival Beach," which revolves around love songs for the end of the world.
Scotland dates:
Mon Sept 4 – Leith – Hibs Supporters Club – Tickets here
Tues Sept 5 -Dundee – Clark's – Tickets here
Wed Sept 6 – Aberdeen – Tunnels 1 – Tickets here
Thu Sept 7 – Elgin – Drouthy Cobbler – Tickets here
Fri Sept 8 – Wick – Blackstairs Lounge
Sat Sept 9 – Lochcarron – The Treehouse
Sun Sept 10 – Inverness – Tooth & Claw – Tickets here
Mon Sept 11 – Braemar – Braemar Gallery
Thu Sept 14 – Knoydart – Community Hall
Fri Sept 15 – Aviemore – The Old Bridge Inn
Sat Sept 16 – Stirling – The Mediterranea – Tickets here
Sun Sept 17 – Biggar – The Arcadia Music Café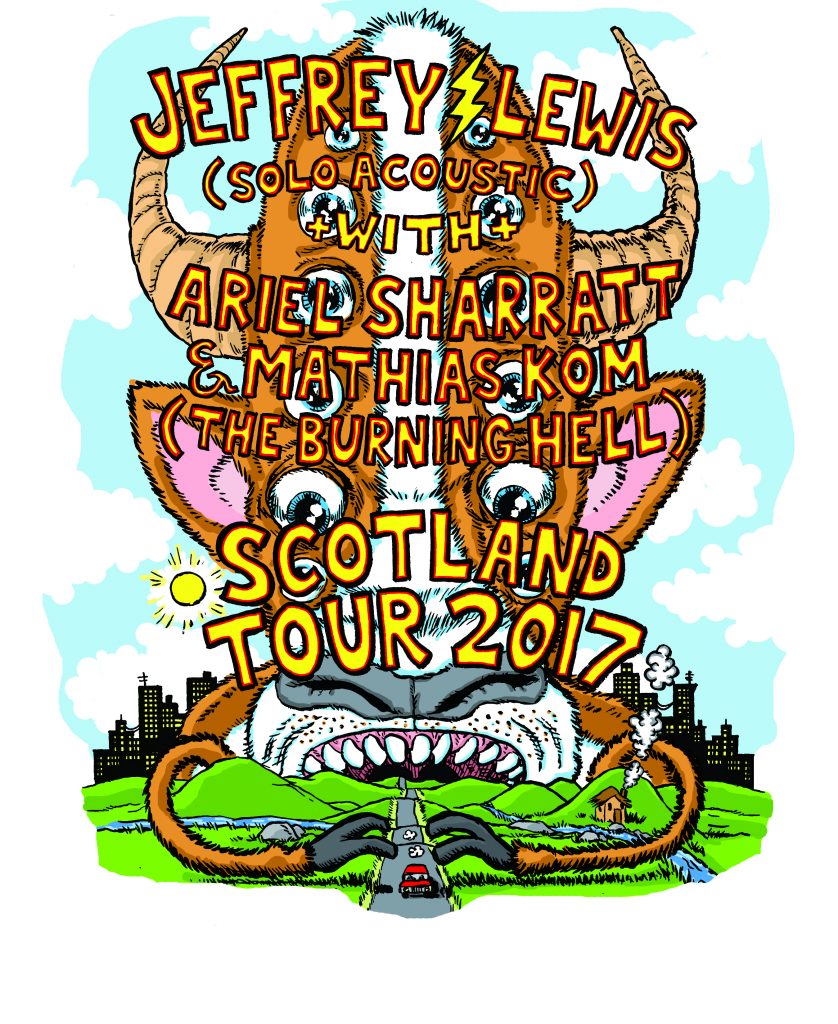 Photo of Ariel Sharratt and Mathias Kom © Angus Rowe MacPherson
Photos of Jeffrey Lewis © Kelly Clayton