In a world-first, Jo Mango has teamed-up with internationally-renowned criminologist Professor Fergus McNeill to soundtrack his new book, Pervasive Punishment.
The outstanding result of this unique project is System Hold, a beautifully crafted EP, brought to life by Jo Mango and friends.  The EP soundtracks the book, Pervasive Punishment: Making Sense of Mass Supervision (Emerald Publishing Limited) written by Professor Fergus McNeill (Glasgow University).
The idea of soundtracking a book is one that has fascinated me for years.  Reading is meant to be done in silence, unless of course you wish to add your own accompaniment or have your own chill out mix in your headphones while you flick the pages.  The right soundtrack can turn a book into a more cinematic and mesmerising experience.  And that is exactly what System Hold provides.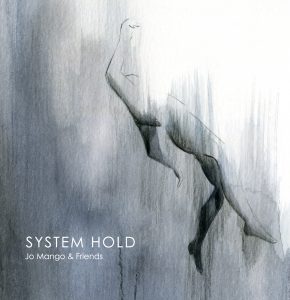 The EP, like the book, explores the pervasiveness and the painfulness of supervision, over the four tracks Depth, Weight, Tightness and Suspension – each a thoughtful exercise examining how supervision in the criminal justice system works its way into a persons sense of identity; how heavily it weighs upon them and their loved-ones; its tight constrictions and the experience of having your life repeatedly suspended.
The first single to be taken from the EP, Weight, is inspired by Dolly Parton's Jolene and features the voice of a woman pleading with a parole officer not to take her lover back to jail. Weight examines how heavily supervision weighs upon the lives of those who experience it, humanising and making accessible the experience for those to whom it is an entirely alien concept.  As Jay-Z wrote in the New York Times about fellow rapper Meek Mill on his recall to prison after many years under supervision on a youthful drug charge: "it's time we highlight the random ways people trapped in the criminal justice system are punished every day. The system treats them as a danger to society, consistently monitors and follows them for any minor infraction — with the goal of putting them back in prison."
This intolerance to failure that typifies many systems of supervision is represented sonically by incorporating elements of glitch in the EP (a departure for Jo). As she describes it: "glitch is a genre of music that aims to celebrate failure (the sound of a CD skipping, a digital slip, a stay creak or loud breath) and to see the beauty and possibility in it. So I wanted to experiment with a glitch crossover in order to challenge this aspect of our understanding of failure in the criminal justice system. Adem did an amazing job of bringing that to reality in the EP".
Above photos © Al Donnelly
With the help of long term collaborator A. Wesley Chung (The Great Albatross), Martin Cathcart Frödén (novelist and winner of the Dundee International Book prize), Lucy Cathcart Frödén (Tall Tales, Social Services, Zoetrope) and the production skills of Adem Ilhan (Adem/Fridge/Silver Columns/producer of Lau /Philip Selway), Jo has crafted a poignant and mesmerising record.
System Hold is released via Scottish independent label Olive Grove Records and is available to stream on all the usual platforms here. 
There are also a number of limited edition CDs that you can pick up here.
Hear more about the book and the project in this short video:
Read more at the Pervasive Punishment project blog here:
System Hold was commissioned and supported by the University of the West of Scotland