Olive Grove Records release new music from Pocket Knife and moonsoup.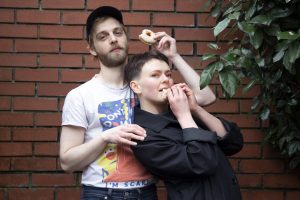 Pocket Knife and moonsoup both appear on Volumes 3 & 4  of Olive Grove Records sublime series of Archipelago EPs.
Volume 3 of the double EP release features 5 tracks from Glasgow based slinky upbeat synth duo, Pocket Knife.  This is joyous music with witty and clever lyrics that you can bounce along to.  And dance we did when we caught their near legendary energetic live show at the start of the year.
Pocket Knife is Louise Connor and Michael Nimmo who cite influences as diverse as The Shangri-Las to Shonen Knife and  the duo describe their music as "synth-pop to dance limply to". 
moonsoup is Scottish lo-fi musician Niamh Baker who started writing, recording and releasing her own indie-pop tunes back in 2018.  Following support slots for Randolph's Leap and RM Hubbert, Baker caught the attention of Olive Grove Records who signed her up to be part of the Archipelago EPs. 
The five tracks on Archipelago Volume 4 are packed with glorious soulful indie melodies weaved with magical storytelling touching on close personal affairs such as her struggles with social anxiety and grief.
Both EPs will be released on eco-vinyl and as a digital download on Friday 29th November.
Volumes 1 and 2, released in August this year featured Jared Celosse ​(Vol. 1) and Chrissy Barnacle (Vol. 2). Visit Olive Grove Records here for more information. 
Olive Grove Records  will be celebrating the release of Volumes 3 and 4 with a launch show in the intimate settings of the Braw Wee Emporium in Glasgow on Friday 29 November, where Pocket Knife and moonsoup will be joined by some very special guests.
Images below taken at the Olive Grove Records Showcase | The Hug & Pint | Saturday 2nd February 2019 | Photos © Al Donnelly.
Discover New Music…
For more live sessions subscribe  to our channel on YouTube and follow us on Facebook, Twitter and Instagram for news on the great new music we love.
Keep up to date with what we are listening to by following our Spotify New Music Playlist which we update every month.