Artists from across Scotland have united to record a festive single aimed at raising funds and awareness for environmental charity Friends of the Earth Scotland.
The recording session was organised by Lloyd Meredith,head of Olive Grove Records and was inspired by a brand-new song called "Christmas, Burn It All", written by Adam Ross of the band Randolph's Leap. The 8-piece band who were responsible for laying down the foundations of the song features musicians from all across Scotland, including Randolph's Leap's lead guitarist Andrew MacLellan who grew up in Crieff.
A choir of singers from the Olive Grove roster joined the band in the studio to lend their vocal talents. The "Olive Grove All-Star" choir includes Scottish Album of the Year nominee Carla J. Easton as well as members of Broken Chanter, Pocket Knife, Campfires in Winter, The State Broadcasters and Henry & Fleetwood plus Lloyd Meredith himself.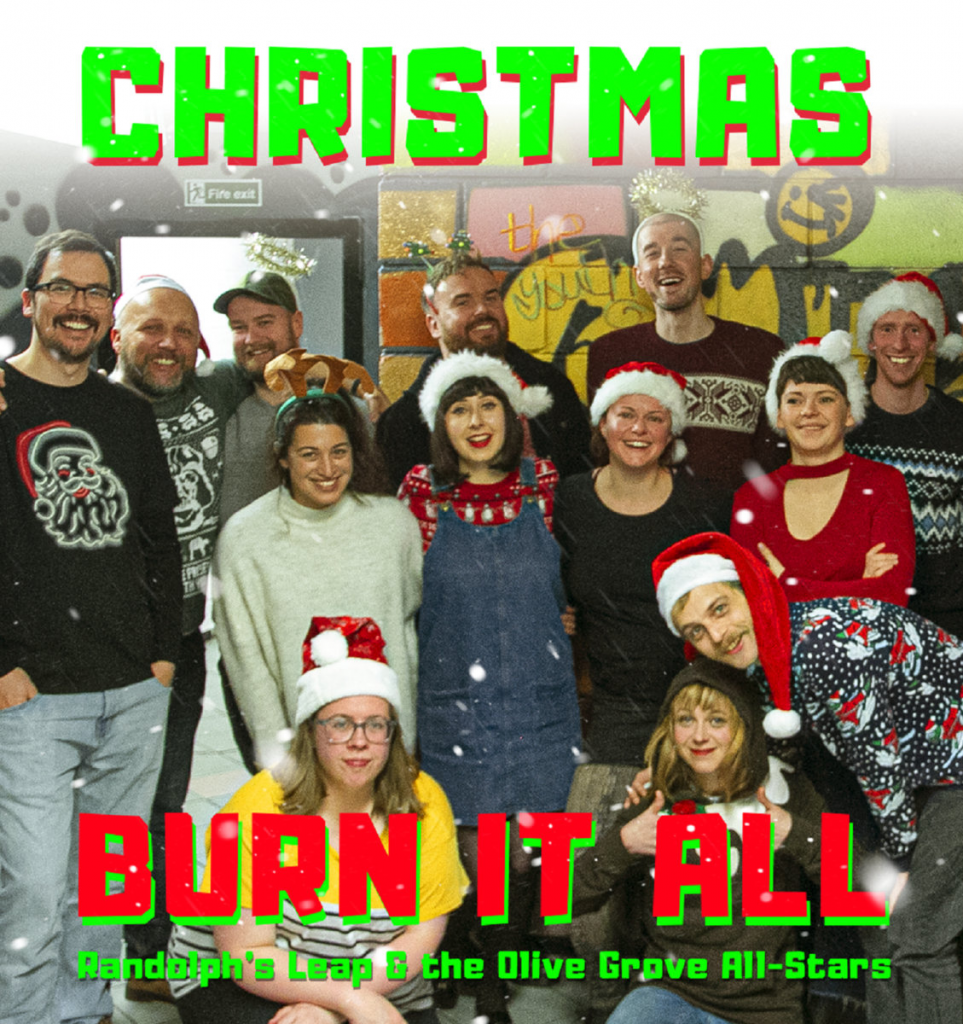 Recorded and produced by Paul Gallagher at Glenwood Studio in Glasgow, the song opens with the stark line "It's Christmas time and all your heroes are dead". It's an anthem described by Adam Ross as "a slightly nihilistic "goodbye and good riddance" to 2019 and a tentative hint at optimism for the new decade" with lyrics referencing 2019's Heathrow drone incidents, Brexit, climate protests and the passing of celebrities, including a direct nod to indie music hero Daniel Johnston who died this year. "I was keen to round off a slightly chaotic 2019 by doing something positive for the environment" continues Ross. "As a musician it can be hard to offset the carbon impact of your own constant travelling or trying to move beyond the abundance of plastic cups and water bottles in music venues. The natural world plays an important role in my songwriting and Friends of the Earth are doing a great mixture of work on climate and other environmental issues."
 Lloyd Meredith was excited when an initial demo appeared in his email inbox back in September. "It's always great when an artist sends you new material and the lyrics instantly struck a chord with me as they counterbalanced some of 2019's rubbishness with the cathartic idea of starting afresh in 2020. It didn't take long for us to hatch the plan for an indie Band Aid style charity single."
Friends of the Earth Scotland were delighted to be approached as the nominated charity, with Kerrigan Bell, Development Manager saying,  "Music has the power to bring us together – which is needed more than ever as we tackle the climate crisis. 2019 was a big year for the environment in Scotland with the new Climate Bill, the rise of the Scottish Youth Climate Strikers and more. 2020 is looking set to be even bigger as Glasgow will host to the UN Climate Conference and we continue to push for more action on climate change."
The digital single is available to download now and is accompanied by a video of the recording session, made by Randolph's Leap bassist Vicki Cole.
For more information about Friends of the Earth Scotland visit www.foe.scot