Glasgow garage rockers Shredd hand pick the tracks for their Netsounds Takeover playlist.
The band have recently released their biggest single to date, "Rot".   It's a fuzzy guitar driven head smashing track that could be one of the best proper rock songs of the year so far.  Already a fan favourite from their live set, the track combines the raw energy that the band are known for with a rhythm that gets stuck in your head.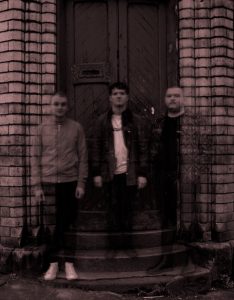 Shredd have kindly taken some time out to share some of their favourite tracks of the moment with us.
Shredd are Chris Harvie, Mark Macdonald, and  Calum Wilson.
Live dates
Shredd play:
Click on the player below to listen to the mixtape and read about the bands selections in their very own words.
Press play and let it run.
Dark Sorcerer – Frankie and the Witch Fingers
Frankie and the Witch Fingers are probably our favourite collective band. We got to support them last time they were in Glasgow and we totally fell in love, their new album 'ZAM' is unbelievable. We've chosen this song but could have chosen any of the 11 on the album, one of the best albums we've heard in a long time. (Whole band)
Wasted Days – Cloud Nothings
I've always liked Cloud Nothings, it's an old song but one I often go back to. The song itself starts off as a pretty normal tune however further into it there's this mad intensity which starts off with the bass, then all of it becomes quite unpredictable and manic. The drummer is insane. (Chris)
Can't You See – FIDLAR
Always been a big fan of FIDLAR, loved their first two albums and although I haven't properly listened to the third the single 'Can't You See' is a great song. Doesn't sound a lot like the last two albums but the riff at the start is ridiculously good fun to play. (Chris)
Cornflake – Psychedelic Porn Crumpets
Heard the name floating around but it was only recently that Calum let us listen to this song that I properly got into them. This song itself, the riff just keeps going on and on, another fun one. They're playing in Glasgow soon and I'm looking forward to seeing them. (Chris)
Do Not Disturb – Be Charlotte
This song is massive. Be Charlotte has been class for a long time, but I feel like this song takes it to another level. It's so catchy, properly gets stuck your head immediately and doesn't leave, love the Scottish accent as well. (Calum)
Chequeless Reckless – Fontaines D.C.
We got to support these guys in Glasgow last year at Bloc+, it was their first time playing in Scotland and they blew me away. They've totally taken off since then and are selling out venues all over the world, it's brilliant to see. This song is so good, the lyrics at the start to me demonstrate exactly what they are about – they feel like a really important band for this generation, their album is just out and it's going to be huge. (Calum)
Outrageous – Calva Louise
Came across these guys just a few months back, had seen the name floating about and they ended up on my YouTube suggestions. This song alone pushed me into buying tickets for their show in Glasgow in March and I totally fell in love with them. A 3 piece like us and LOUD like us, 3 amazing musicians making stupidly catchy but heavy tunes, right up my street. (Calum)
The Reason They Hate Me – Daughters
I recently started listening to Daughters after hearing rave reviews about their most recent album, You Won't Get What You Want. This song was a stand out: so heavy, so energetic and so so good. Big song by a big band. (Mark)
Girl Chewing Gum – The Twilight Sad
My favourite band of all time. This is probably my favourite track from the new album, and up there with one of my favourite TTS songs ever. The bass at the beginning sets the tone for this powerful and emotional track. Undoubtedly the best band on the planet. (Mark)
Just Breathe – Thrice
Another band I've recently stumbled across. Not my usual cup of tea, however I was immediately drawn to their massively talented bassist, and this track in particular showcases that talent to a tee. On top of that the bass tone is absolute filth. Like out of this world. Massively inspiring for me. (Mark)