Scottish alternative indie-rock band Foreignfox takeover our latest guest mixtape.  The band have tasked their guitarist/keyboard player and backing vocalist, Fraser Macintyre to share some of his and the band's favourite songs.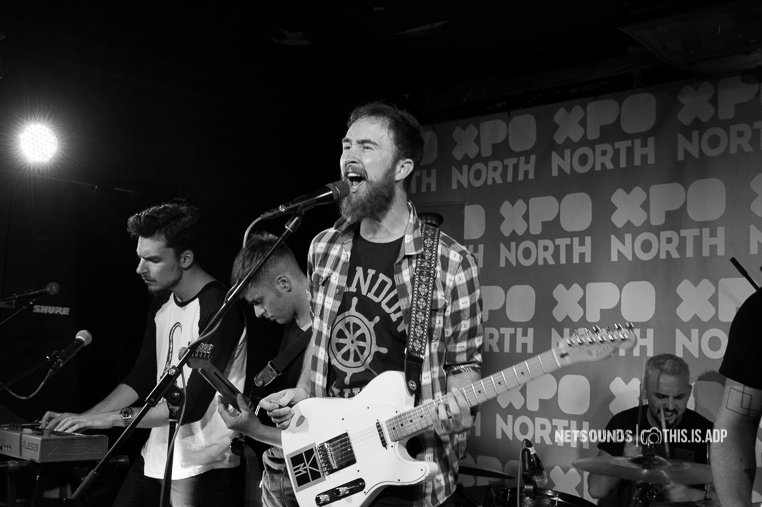 Foreignfox are a dark-pop post-rock band from Dunfermline, Scotland who emerged onto the scene in 2013 and since then have gone from strength to strength to become one of the best live bands in Scotland right now.
Their latest EP,  'I Used To Be A Bellydancer' has been released through Scottish independent label Scottish Fiction and is available through iTunes, Bandcamp and of course Scottish Fiction here.  Take a peak below at the live session the band recorded for us.
Discover more about Foreignfox on Facebook.
Click on the player below to listen to the mixtape and read about Fraser's selections in his very own words.
Press play and let it run.
1. Craig Finn – God in Chicago
Unflinching realism, that still looks for something more than what we can see.
Even though this is a sad song – it feels like a celebration of all that is around us, a realisation that even the moments we would rather forget are worth something, and the most fragile and brief human connection can be pretty vital.  I was introduced to The Hold Steady almost a decade ago, and that paved the way for a lot of songwriters and authors that have become important to me since – Raymond Carver, Jason Molina, Vic Chesnutt, Willy Vlautin.
2. Mitski – Your Best American Girl
Tune your air guitar and prepare to headbang like a Wayne's World extra.
Amidst a sea of robotic contemporary singles claiming to be empowering – this feels like the real thing. Raw and romantic defiance in the face of internal strife and external pressure. There is so much heart in this, not once sacrificing the quirks that make us unique for an emotionless, false pretence of perfection.
I fucking love Mitski. She is a superhero. I eagerly await her introduction into the Marvel cinematic universe.
3. Big Thief – Shark Smile
Look up 'Adrianne Lenker is one of a kind' on Pitchfork. An endlessly inspiring woman that can balance strength and tenderness like few songwriters can. The sincerity and authenticity of Capacity is completely disarming. A record that deserves your undivided attention – let it make you shiver. I've chosen this particular song because the guitar playing is unexpected and sublime.
4. There Will Be Fireworks – So Stay Close
We recorded our first EP in Strathaven, at the beautiful and now sadly discontinued Old Mill Studios with Marshall Craigmyle. The romance of recording in that rustic old theatre made it the perfect place to find our feet. Walking in the woods, sipping Innis & Gunn (rum finish) in the control room, heading into town for a chippy & listening back to the rough mixes of 'Yoghurt' and 'The Truth About Sex' on return journeys to Dunfermline, all of us crammed into Lewis' famous and dearly missed bright yellow 'bananacar'.
A lot of our early folk and cinematic inclinations arrived from acts Marshall had recorded there – primarily There Will Be Fireworks. We waited years for this record, we PINED for it. Listening back to the Dark, Dark Bright now feels like the welcoming embrace of an old friend, a reminder of where we planted our roots. I remember picking up the CD from Avalanche Records and listening to it in full while driving in the dark. Pulling over for South Street. Probably texting Nick (drums) 'HOLEEEEE FUCK!!" or something along those lines.
I picture Autumn and Winter in Scotland when I listen. Leaves on the ground. The possibility of snow. Re-connecting with a lost love. The joy of a tight knit family. Old films. Wine and cider in paper cups. Jackets, scarves and gloves. Rosy cheeks. Simple pleasures.
5. Japanese Breakfast – Road Head
This will make you move. A sensual and bloody voyage into outer space. David Lynch meets Lady Snowblood. The head bobbing is the greatest thing to happen to me this year. I challenge anyone to watch this exquisite video and not head bob.
6. Siobhan Wilson – Paris Est Blanche
Intimate and pretty inspired – mixing a drum machine with ethereal vocals and lovely piano playing that reminds me of Erik Satie. The classical influence on this record is wonderful, and Siobhan's lyrics carry an understated weight ('nobody knows / how over centuries / a million lovers turn into one song'). Songs with beauty and bite; seamlessly blending joy and melancholy like watercolours.
Also – should note that this was released on Song, By Toad. My favourite Scottish label. Draw your debit card, head swiftly towards their Bandcamp page & prepare to deal yourself some hefty financial damage.
7. IDLES – Mother
Came across this the morning Theresa May was re-elected. Pretty fitting. A reminder to stay passionate and avoid complacency.
8. Adam Torres – Where I'm Calling From
One of my favourite songwriters from the US of A. Adam Torres is playing The Hug & Pint in Glasgow later this month. I never thought I'd get the chance to hear him sing in person. Mucho excito.
9. Bill Ryder-Jones – Daniel
There is real magic in this. I discovered Bill Ryder-Jones through a thoroughly braw short film currently residing on YouTube that I would recommend to everyone, their dug and all the dug's dug pals – 'Neu! Reekie! Anywhere But The Cities'. After repeated listens – I sent this to Jonny (our frontman – a.k.a. Papa Fox), and it connected with him just as instantaneously as it did with me.
10. Manchester Orchestra – The Grocery
The five of us can agree on one thing – Andy Hull is a genius. This may be my favourite MO record to date. An emotive and beautifully constructed 11 song soiree through guitar tone heaven.