Scottish alternative/indie three piece, The Strives talk to Netsounds ahead of the release of their debut EP, Kingpin.
The Strives are an alternative/indie band who formed in Forres, Scotland.  They began experimenting with the concept of being a band during the latter years of school where they would meet up in the music room to jam, then after school to play covers and experiment with song writing in drummer Olly's bedroom.
The band parted ways for college and jobs for three years and faded into the background. It was only after this hiatus that they re-discovered an urge to play live music.  It was also an opportunity for the band to mature and realise their potential.  In recent years they have steered their ambitions back into The Strives and they release their debut EP Kingpin through Inverness based label IMOUT Records on Mon 19th March.
The band said of their upcoming release, "We have a lot to present, and feel now more than ever that we are ready to put our music into the world!"
What are the challenges or positives being based in the North of Scotland?
Living in the North of Scotland, can feel challenging at times. Being based in a small agricultural town with an ageing population can seem isolating.  However, that being said, it also creates an environment where the people who care about music find it easier to find each other and push things forward.  Being from Forres has in recent times also been very beneficial for us as we have been fortunate enough to open for The View, The Pigeon Detectives and Scouting for Girls at sold out shows at The Loft allowing us to bring our music to large audiences.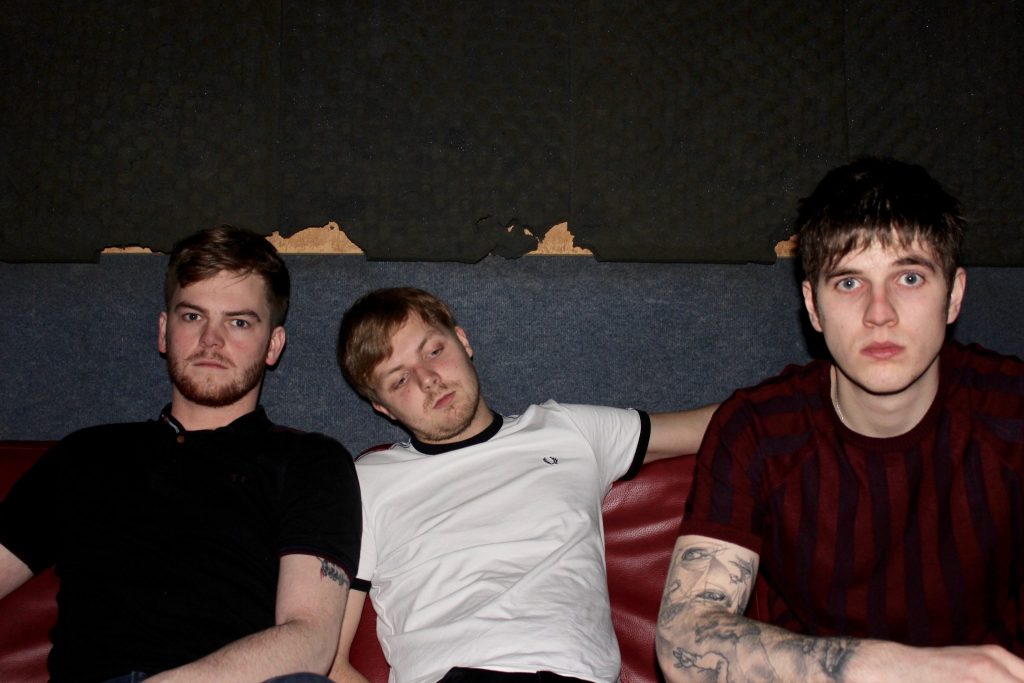 What's your opinion of the current music scene in the North of Scotland?
It's a bit of a hard one to answer, anywhere outside of Inverness and Aberdeen there aren't a lot of dedicated music venues.  There's a lot of great music and great bands cutting about though just not enough platforms for them. As for the Inverness scene I think it's great, there's certainly a lot more going on than we originally thought before we were introduced into the scene.
We've discovered people actually care about music and will take the risk to go and see a live band they've never heard before.  There are ample venues that provide the opportunity for bands to play regularly.  A good thing to highlight is that Inverness is most definitely establishing itself as an important city for touring bands creating great opportunities to meet and gig with bands from all over the country.  It all contributes to the growing buzz in the Inverness scene, which evidently is there.
How would you describe the music you make?
We naturally tend to create a rawness in the music we make.  As fans of big sounds we can never have enough fuzz, to the point where if we ever figure out a way overdrive acoustic drums we definitely wouldn't be averse to experimenting with that!  There's certainly an element of punk in the mix without a doubt, with the drums mostly dictating the direction and feel of the songs, it's sometimes very much break neck speed when it comes to the live performances.  You can expect aggressive, big sounds softened just enough by melody and harmony.
What are you listening to at the moment?
Our music taste varies from one extreme to another, from early punk like the Ramones and Sex Pistols to electronic music such as the Chemical Brothers, and a large portion in-between.  At the end of the day we will always be fans of Rock and Roll!
Some say it is a dying breed but there is plenty out there if you look in the right places, and we certainly won't be giving up on it!  Our differences in musical inspiration are what we feel gives us our unique sound as we all bring different ideas to the table.  As a three piece it can be challenging to incorporate different playing styles as it would be very easy to fall into a simple three piece set up where the chord progressions are simple and minimal and the rhythm section is merely keeping time, but we always try to keep things as diverse as possible which seems to be working for us.  We all listen to a wide ever-changing variety of music and are always open to new genres and ideas.
Where do you usually gather song-writing inspiration from? What is your usual song writing process?
Being from a small town can sometimes feel isolating and claustrophobic. The song writing definitely draws on elements of that. It's very easy to feel like you're stuck in a rut when you see the same faces every day and it seems like everyone knows your business so our music definitely gives us all a chance for some catharsis in that respect. The process of writing is always ongoing it's pretty prolific; non-stop from jotting things down on the bus to work, to humming a new idea into a phone recording walking your dog. The lyrics and music are almost always written separately then brought together at the point of recording a home demo.  It's not until the demo or idea is taken to rehearsal that the song truly takes shape. We often come across golden moments of random jams becoming songs which always feels great!
If you could collaborate with one musician or band, who would it be and why?
We currently don't use electronics in The Strives, so collaborating with an electronic / dance artist would be cool.  Liam Howlett would be a good fit for us as we are all massive fans of The Prodigy. Although it's two totally different genres of music, there is definitely a link there with the attitude and the way the live performances come across.
Finally, What are your ambitions as The Strives for the future?
We are hoping, once the EP is released to the world that we can keep building a buzz around what we do and bring our music to as many people as possible. It'd be great to play some festivals and perform in that environment. There are also's plans for a tour this year which we are excited about!
As for the future, we hope to continue writing and recording music we adore and playing to crowds all over the country. We thrive off playing live music, and we would want that to continue for a long time. We have a lot to give and are excited to bring it to as many people as we can!
The Strives are:
Phillip Barton – guitar/vocals
Darren Love – bass/vocals
Olly Tinsley – drums
The track is available on iTunes from Monday 19th March.
Discover more about The Strives here.
Discover more new music here.