Scotland's national music prize, the SAY Award is inviting music fans to vote for which albums they think should make this year's coveted shortlist.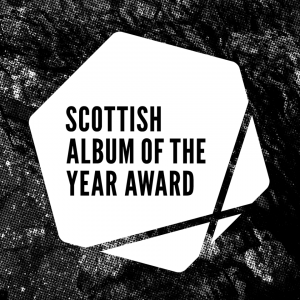 The SAY Award public vote will also give voters a chance to win a pair of tickets to the exclusive award ceremony.
The Scottish Album of the Year (SAY) Award, is widely recognised as one of the most egalitarian and democratic awards in the UK music industry. With no listing fee or cost to participate, The SAY Award is once again welcoming music fans from all over the world to  cast their vote to influence which albums will secure a place on the award's coveted Shortlist.
The SAY Award public vote is open from midnight on Monday 12 August until midnight on 14 August, giving music fans 72 hours to get behind their favourite album on the recently announced longlist. The longlisted album which secures the most votes will automatically gain a place on the coveted Shortlist, as well as a guaranteed minimum prize of £1,000. It also means that this album will be in with a chance to be hailed as Scottish Album of the Year 2019, with the winning artist receiving a £20,000 prize.
Vote for the album of your choice from Monday 12th August here.
The online vote is free to enter and allows for one vote per person. Anyone who votes is also automatically entered into a ballot to win a pair of tickets to the exclusive invite-only SAY Award ceremony, which this year takes place at the Assembly Rooms in the heart of Edinburgh on Friday 6 September 2019.
Robert Kilpatrick, General Manager of the Scottish Music Industry Association (SMIA), said: "Last month we announced and celebrated 20 outstanding Scottish albums as this year's SAY Award Longlist. Soon they'll be whittled down to a Shortlist of just 10 albums, and the public vote plays a crucial part in ensuring that music fans have a voice in the determination of this. The album with the most votes will be automatically guaranteed a place on the Shortlist and a minimum prize of £1,000. Every vote counts, and we need your input. The SAY Award is by and for music fans, so make sure to get involved and have your SAY!"
The winner of the public vote will join nine other shortlisted titles chosen by the esteemed SAY Award independent judging panel, which features a broad range of influential and experienced tastemakers from across the creative industries and was recently revealed to have a 50:50 gender split. Boasting one of the most lucrative prize funds in the UK, the winning artist will be announced at the final ceremony and will pick up an incredible £20,000 cash prize, with the 9 runners up each being awarded £1,000.
The public have been able to explore the 20 longlisted titles at WWW.SAYAWARD.COM since the 2019 longlist was revealed to fans at the Live at the Longlist event on 26 July in The Queen's Hall in Edinburgh. This year's longlist features another brilliantly diverse snapshot of Scotland's music scene and spans a wide range of contemporary music genres and styles.
1. Aidan Moffat and RM Hubbert – Here Lies The Body
2. Aidan O'Rourke – 365: Vol. 1
3. Andrew Wasylyk – The Paralian
4. Auntie Flo – Radio Highlife
5. Brìghde Chaimbeul – The Reeling
6. C Duncan – Health
7. Carla J. Easton – Impossible Stuff
8. CHVRCHES – Love Is Dead
9. Edwyn Collins – Badbea
10. Fatherson – Sum Of All Your Parts
11. Fergus McCreadie Trio – Turas
12. Free Love – Luxury Hits
13. Graham Costello's Strata– Obelisk
14. Karine Polwart with Steven Polwart and Inge Thomson– Laws of Motion
15. Kathryn Joseph – From When I Wake The Want Is
16. Kinnaris Quintet – Free One
17. Mastersystem – Dance Music
18. Niteworks – Air Fàir an Là
19. Sean Shibe – softLOUD
20. The Twilight Sad – It Won/t Be Like This All The Time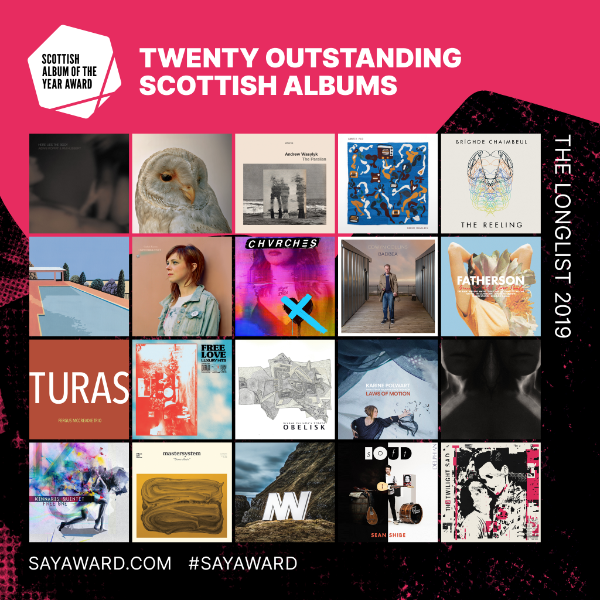 The 72-hour public vote opens on 12 August, closing on 14 August before the Shortlist is announced on 15 August as part of a special BBC Radio Scotland show from 9pm.
0