An evening with Dylan James Tierney and friends.
Inverness based singer-songwriter, Dylan James Tierney is celebrating the release of his debut album Old Misty Road at Ironworks in Inverness on Friday 7th October. Dylan will be joined at the launch by a host of fellow Inverness musicians to celebrate the debut album release.
Featuring recent singles "Brand New" and "Lovers Hold Hands", Dylan said of the album. "This album was written over a long period of time. Some songs going back years from when I was a young boy. The rest of the tracks on the album were written as I was getting older and wiser, finding my feet with my songwriting with a lot more maturity showing. I am extremely happy with the way the album has panned out and I'm happy with the people I'm working with. I hope everyone likes what they hear and I can't wait to get going again for round two."
To coincide with the release Dylan has invited some of the area's finest musicians to join him at the Ironworks: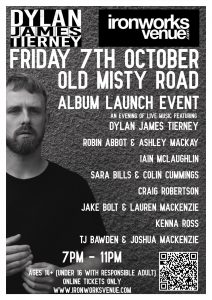 Robin Abbot & Ashley Mackay (Ashley and the Cosmonauts)
Iain Mclaughlin (Iain Mclaughlin and the Outsiders)
Sara Bills & Colin Cummings (Sara Bills and the Hasbeens)
Craig Robertson
Jake Bolt & Lauren Mackenzie (Chancers)
Kenna Ross (Gordon James and the Power)
TJ Bawden & Joshua Mackenzie (Lional / The Joshua Hotel)
Tickets available here.
All photos © Al Donnelly