Scottish musician Joe Goodall and band member, Corin McDonald performed an acoustic session for Netsounds at Belladrum Tartan Heart Festival.
Hailing from Stirling, Joe Goodall and the Free Radicals is Corin McDonald (violin / backing vocals), Dylan Clark (guitar) and Alexander Bland (drums).
Upbeat new single Coffee Shop Dates (recorded and produced by Jamie Turnbull at Idlewild guitarist Rod Jones' Post Electric Studios) was released in June 2023 and is an exuberant celebration of Goodall's excitement at a weekly meet-up with his current girlfriend "I would long for and look forward to meeting in our local coffee shop on Saturdays. I simply wanted to put this excitable, happy feeling and experience into a song,"
Joe Goodall and the Free Radicals played the Off Axis Seedlings Stage at this year's Belladrum Festival and performed an intimate acoustic version of new track, "Self Esteem" for Netsounds.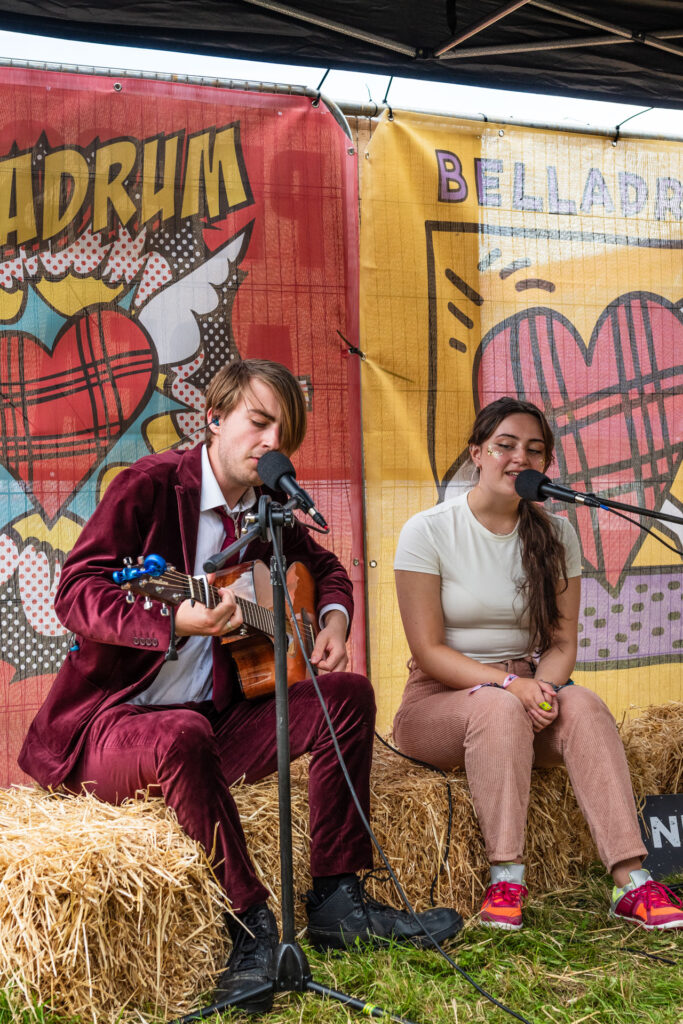 Can you tell us a bit about yourself, where does the name for the band come from, how long have you been performing? "I have always had a love for songwriting and performing. As a little boy I would perform for anyone, (even to the cows in the farmers field at the end of my street). Anyone who dared open the door to me on Halloween would know how eager I was, with a bongo drum in hand, dressed like Elvis Presley and my latest song about – well, Halloween. Towards the end of secondary school, I got the opportunity to record a single at The Tolbooth thanks to Creative Scotland and that's when we formed the band, I hoped we might even be able to get some gigs too. We have been playing together now for just over a year. Free Radicals is a chemistry term (Google it – it's interesting), the rest of the band took higher chemistry and thought that'd be a cool band name."
Are you a full-time musician or do you have a day job, what about the rest of your band? "I was a trainee steam engine driver, working on the most famous trains, including The Flying Scotsman and her sister engine, Olton Hall aka The Hogwarts train. I loved it, but it was really intense, I didn't have time for music, so I made the decision to concentrate on my music career. I work part time in a shop, go busking, the rest of the band still at school" 
 What is the single Coffee Shop Dates about? "Coffee Shop Dates is about when I met my girlfriend and our first ever "unlabelled" dates occurred at our local coffee shop. It became a regular Saturday occurrence and something I would long for and look forward to every week. I wanted to put this excitable and happy feeling and experience into a song, especially as I felt that up until that point, I was writing far too many solemn songs. It is fun and catchy enough that it's now a fan favourite and I cannot wait to release it. I'm extremely proud of it!"   
 Do you support any charitable causes or feel strongly about current affairs (politics, environment, mental health etc)? "I feel strongly about the environment, it's probably because I've been lucky enough to grow up in the countryside with clean air and lots of open spaces. I try my best to be as eco-friendly as possible in my everyday actions but I think it's important that we hold the government to account and focus on the bigger issues too.
 I have struggled with issues surround my own mental health my whole life. I have permanently damaged the skin on my hands from where I excessively washed them for the fear of germs in primary school and I imagine I'll combat panic attacks for the rest of my life. The good news – my anxiety takes a back seat when it comes to making and performing music. I hope to continue to push myself and prove to myself that anxiety and depression are things I can overcome, not feelings that rule me. When I was 14 years old, one of my songs Mental was featured by the Scottish Association of Mental Health when they came to my school to raise awareness of mental health issues, you can listen to it over at https://seemescotland.medium.com/joe-goodall-mental-1953c93ef227"
 What do you tend to write about, and do you take inspiration from what's happening in the world around you or are your lyrics based on personal experience? "It does change from time-to-time, I do take notice of what's happening in the world (my song Rampant came from a period of time where I needed to do something with my contempt and anger towards the Tory government), but yes my songs are usually based on personal experiences."
Featured image © Alan Cruickshank .