Experimental electronic-rock five-piece, Future Get Down to release debut album, Here We Go, Wonder.
Edinburgh based, Future Get Down group have built up an enviable reputation over the past couple of years. Renowned for their dark-edged, hook-laden compositions and captivating live shows, which have led them to support the likes of Kraftwerk's Wolfgang Flür, Jenny Hval and GNOD.
Their impressive ten track debut album, Here We Go, Wonder opens with the brooding and industrial, 'Halloween Machine' and with echos of Arcade Fire it's a bold and striking opener.
The debut LP has already produced the vocal driven lead single, 'Tears'. Their latest single, 'When It Works' delivers a murderously good hook and throbbing electronic beat – not unlike 'Spitfire' by Public Service Broadcasting or even Radiohead's 'Bodysnatchers'.
If Bowie had recorded 'Always Crashing in the Same Car' in the 21st century it may well have sounded like, 'I Am Coming For Your Empire' with its fuzzy bass and brooding synths.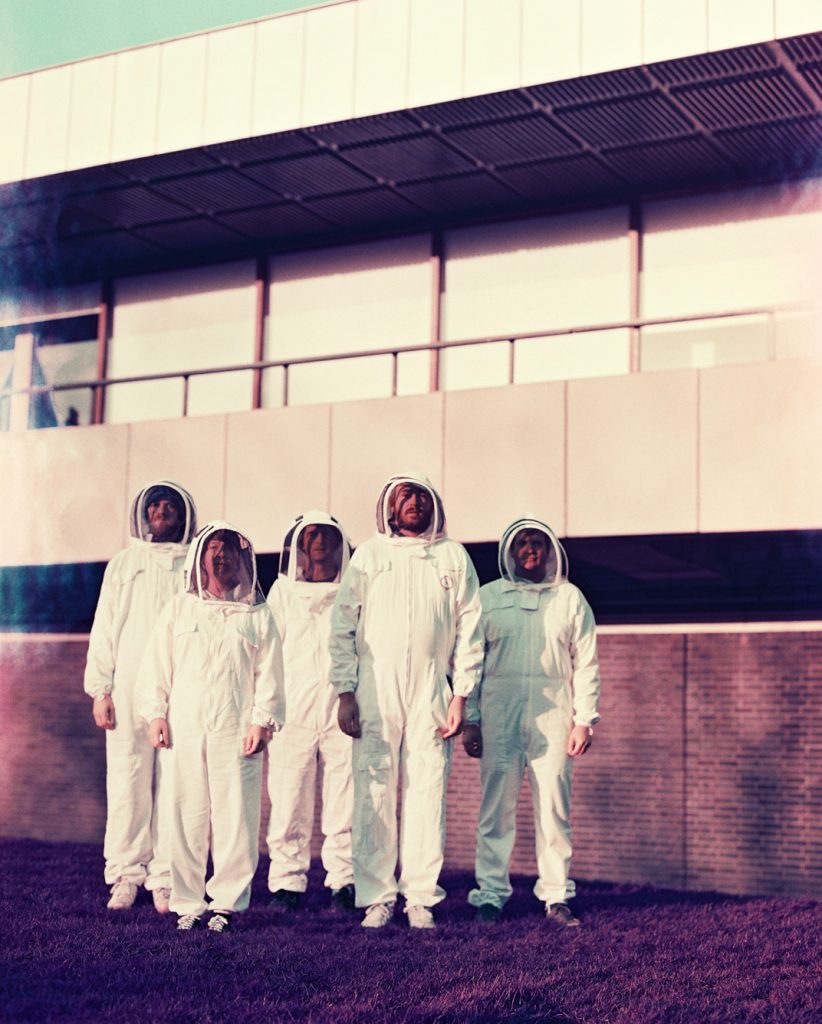 Here We Go Wonder is an impressive synth-pop-rock debut.  It twists and turns with nods to post punk, Berlin era Bowie, Nick Cave, Mark E Smith, early 2000s American indie and late 70s electronica .
Future Get Down is fronted by Oliver Kass (vocals, various instruments) alongside Ally Dennis (bass, backing vocals, various instruments), Sam Bidgood (drums, percussion), Jeanne Laidlaw (synthesiser, backing vocals, percussion, keyboards) and Brian Pokora (synthesiser, guitar).
As Kass puts it, "Get comfy and you're fucked. There's a lot to be said for that."
"I really wanted us to move away from the potential safe havens of sequencers and click tracks when making the album.  To favour live performance, off the cuff ideas and unplanned alchemy in the writing and recording process wherever possible," he says.
"I think we've done our job if it polarises and surprises people. Anything in between isn't doing anyone any favours, is it??"
Here We Go Wonder will be released digitally on 11th September with bonus tracks and on limited edition 12" vinyl, fans can also snap up 1 of the 10 copies of the Vinyl Factory test pressings by pre-ordering via Bandcamp.
Discover more about Future Get Down: Facebook | Instagram | Twitter
0