Halina Rifai from Scottish music blog, Podcart shares what keeps her sane in lockdown.
As we quarantine ourselves to help the fight against the coronavirus pandemic, we drop in on some of our music pals to find out how they are coping.
We dropped in on Glasgow-based Halina Rifai who amongst many other adventures, runs the magnificent Scottish music blog, Podcart.
Halina has been working within the music industry for over ten years.  She is the founder of the respected and passionate music blog/podcast – Podcart.
Halina is a partner in Lost Art Agency, working collaboratively with artists and managers championing music in Scotland and beyond.  She is also a part of the Scottish Women Inventing Music (SWIM) who are a passionate collective of female music creators and industry professionals.

Are you keeping well and how are you spending lockdown?
Honestly, personally I am fine, I just probably worry a bit more about how others are getting on. I am doing a lot of voluntary work in the community and it's been tough seeing how hard people are coping but that's my issue and it will never be as hard as what these people are having to go through. From a music point of view, I have been continuing reviewing and podcasting and remote podcasting has become a thing!
Does music mean more to you now than ever and how are you responding to it creatively?
I always credit music for keeping me sane but I think it's more vital than ever. I have made playlists for walks and working during the day and music seems to be the only thing that stops me from thinking of the dreaded "coronavirus" word.
What music are you listening to right now?
A lot of minimal electronica from the likes of Bonobo, Four Tet, Kiasmos and also a lot of classical both old and new from the likes of Hildur Guðnadóttir. I seem to be connecting with things that have less lyrics and vocals when my brain is buzzing. HOWEVER, I am really enjoying a lot of uplifting pop music and Neo (Soul) which seems to naturally lift the mood.
Have you discovered any music gems during isolation?
Oh my goodness, so many! One of the stand outs has been Alice MC with her song 'Far From Heaven' has floored me, such talent. Also Kathleen Frances with her latest song 'Define'. In all honesty though, I could go on and on. There have been so many.
Get fit or embrace the bulge?
Well as a plus size/large-bodied woman I guess it depends how you look at this. I have bulge and I am fit so I think a combination of the two is just fine.
Have you been surprised at the contents of your kitchen cupboards? And have you made anything delicious from said contents?
My parents always taught me from a young age to have staples in your cupboard and coming from an Arab background, you always have an abundance of spices in your cupboard anyway. My husband has benefitted GREATLY from all of this. I cook all the time but I have certainly gone back to being more inventive. There has been a lot of delicious sauces, tagines, fish dishes and more.
What habits have started to form or are starting to fade?
To be honest, the way I am living and working now hasn't really altered much during lockdown. I have got into the habit of video calling my mum 3 times a day. We have started having our lunch together which has been lovely. It's been really difficult not seeing her in person and I just have to be thankful for technology.
What random things are you buying online?
Just fucking tech stuff! The things you don't realise you need when working and recording remotely. I have been trying to stick to essentials though as I am so incredibly aware that people working for delivery companies are at risk and I think it's important to be mindful of that.
What are you doing to keep motivated? (Because by fuck it's hard)
I get up at 6am/6.30am every morning. I stick on my trainers and go for a 4-5 mile walk. It's the only thing that keeps me going each day mentally aside from music. I am so lucky to be able to do that given that many are on complete lockdown and I don't take it for granted. I have also kept podcasting, listening to music, reviewing etc. I think it's important to stick to a routine as much as possible.
What are you most looking forward to doing again this is all over?
Seeing my family and friends, going to a gig, buying a record from our record shop, eating ice cream in the park, walking on a pavement without shitting myself.
And finally, have you anything you would like to plug or declare?
I guess I just want to make a declaration to musicians. Please keep going, please keep making your music. My days wouldn't be as rich without you and I am grateful for the escapism you give me.
Discover more about Podcart here.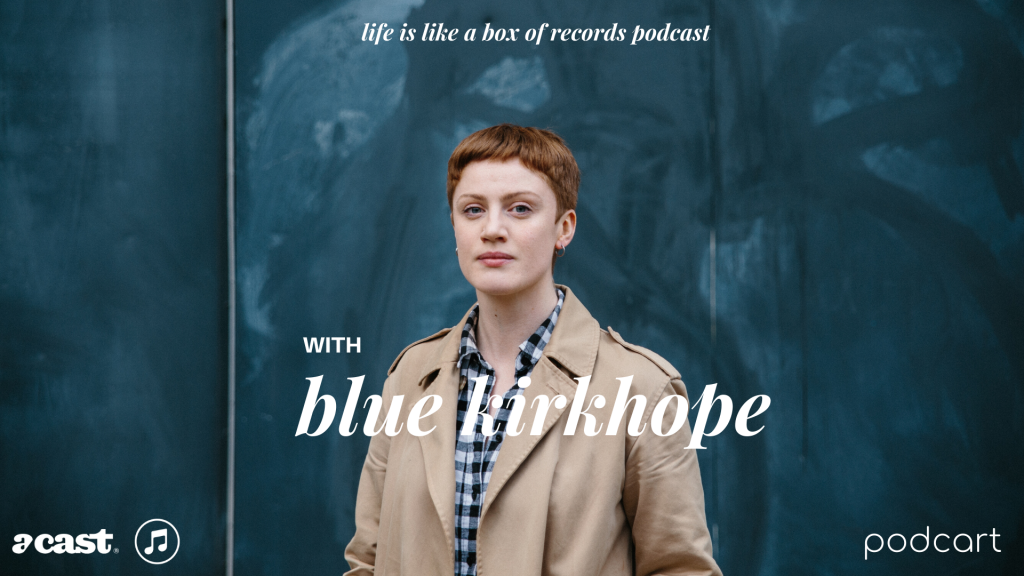 1