Johnny Lynch (Pictish Trail) shares his life in isolation from the Isle of Eigg.
As we isolate ourselves to help the fight against the coronavirus pandemic, we drop in on some of our music pals to find out how they are coping. In the first of this (hopefully short) series we caught up with Scottish musician and label owner Johnny Lynch.
Independent spirit Johnny Lynch started writing, performing and recording under the guise of the Pictish Trail  releasing his first LP in 2003 on Fence Records where he served as Director for ten years.
Johnny has released a number of albums,  EPs, and singles as Pictish Trail including the critically acclaimed 2008 lo-fi folk-pop LP, Secret Soundz Vol. 1.  His most recent album, Thumb World is a voyage into Pictish Trail's most inventive and funny thoughts about alien abductions, Trump-haired pigs and bad acid trips.  It shifts from alt-folk to lush pulsating disco beats and synths and is utterly glorious!
Lynch is founder and Director of Scottish independent label Lost Map Records and events who have released music from the likes of Tuff Love, Savage Mansion, Randolph's Leap, Rozi Plain, Calum Easter and many more.
Johnny manages Lost Map Records from his home and studio on the small Inner Hebridean island of Eigg where lives with his family.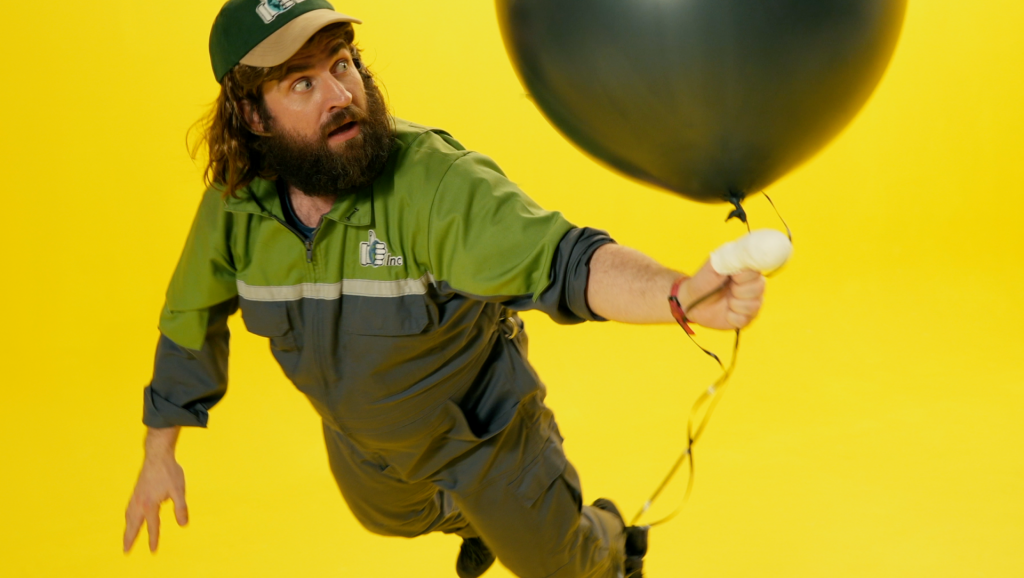 Are you keeping well and how are you spending lockdown?
I'm keeping ok. Shout out to all the musicians with young kids, who struggle to find time in the day to hear themselves think, and are submerged in a constant social media timeline of folks sharing live-stream concerts. Most of my day seems to be spent cooking children's dinners, cleaning up after they've spilled their dinner everywhere, then thinking about what to cook them next. It's an interesting cycle.
What are you listening to right now and does music mean more to you now than ever and how are you responding to it creatively?
If I'm with the kids (which is all the time at the moment, see previous answer), I'll have music on – just to keep my brain detached, and retain a sense of calm. Music can be a comforting distraction, it keeps the kids pretty chilled out too.
Usually I'll play something ambient, while cooking the porridge (this morning it was KLF Chill Out album), and maybe Lauren Laverne on the radio. I've been playing the new Nathan Fake album a lot. Then I'll listen to new music from folks on Lost Map – there's been a lot of new things coming in over the past month.
Other than that, I've been recording a few acoustic versions of Pictish Trail songs up in our wee bothy – listening to myself on headphones, my vocals soaked in reverb and weird delays. For some reason, it doesn't feel particularly creative, musically, but it's kinda comforting. I've had a fair few folk get in touch and ask me to do a session, online. I've recorded separate songs for different outlets, but I've not done my own online gig yet. I'm not sure I have the technical capabilities, to be honest, ha!
Get fit or embrace the bulge?
Bulge me, please. I try and get out for a walk every day, with the kids … but at a very slow pace, so I can listen to a full podcast by the time it takes me to walk to the end of the pier and back. I hardly break a sweat. I'm sure a health kick will come soon.
Have you been surprised at the contents of your kitchen cupboards? And have you made anything delicious from said contents?
We're always fairly well stocked, here – during the stormy winter months, it can often be a week or more before a ferry can come over with supplies. So, aye, we're in the habit of making sure we have enough stuff. The mango chutney seems to disappear pretty quick, though. We've been cooking from these great oven-bake books a lot over the past year – there's one called The Green Roasting Tin, which has a lot of good healthy veggie and vegan meals. We're meat eaters, here – my partner's a farmer – but we tend to cook mostly veggie dinners. Tell you what, coconut milk is a bit of a saviour, innit? Put some rice in a roasting tin, cover with coconut milk, veggie stock, some butternut squash and broccoli, get it in the oven, 45 mins. Dee-lish.
What habits have started to form or are starting to fade?
Trying to keep a good schedule is helpful – gives some shape to your day. I'm kinda used to this way of living, because when I'm not touring I tend to be at home with the kids full-time anyway. The only difference is that the nursery is closed – my son would normally go for about 4 hours, 4 days a week. It basically was enough time for me to get a pile of work done. It's a bit trickier now, so, yeah, trying to keep a tighter schedule to the day does a lot to keep my brain sane.
I'm getting into a bad habit of looking at my phone too much, late at night – which, ironically, is a big theme of the current album. Ha! I'll never learn.
What random things are you buying online?
Haven't been buying anything random. We order our grocery shopping from the mainland, and they send it over on the ferry in a box, and usually about half the order is missing because they don't have the stock. It's kind of a fun game – "Where's the fresh vegetables?" – until you realise that you don't have any for dinner.
What are you doing to keep motivated? (Because by fuck it's hard)
Keeping a daily routine, trying to cook with the kids, having some time to myself where possible to think about things, listening to music and podcasts.
What are you most looking forward to doing again this is all over?
I didn't think it would affect me so much, but I'm really looking forward to playing a live show again. I was about to go on tour with my full band, and we'd had a great performance for The Quay Sessions on BBC Scotland where we got to run through the set. We were sounding great, so I was excited about touring with them and hanging out – but we've had to push all the dates back to March and April 2021.
And finally, have you anything you would like to plug or declare?
I guess the 2021 tour dates! So much of my living is reliant on touring, and selling merch on the road. I don't have that income stream now, so if people are keen to help, it would be great if they fancied picking up some merch from my BandCamp page.  There's lots of different stuff on there: stickers, tote bags, mugs, baseball caps, t-shirts. And there's an exclusive live album to download, on a pay-what-you-can basis.
If folks are looking for something to listen to, my new album Thumb World is out now on Fire Records … and I've also just started series two of the Lost Map Podcast (which you can find on all podcast platforms, including Spotify).
0