Mathias Kom and Ariel Sharratt release new album and launch a TV show for lockdown.
We dropped in on Canadian singer-songwriter, Mathias Kom and his partner and collaborator, multi-instrumentalist Ariel Sharratt from the garage-folk rock band, The Burning Hell.
Loosely based in St. John's, Newfoundland, Canada, The Burning Hell is the vehicle for Kom's witty and intelligent songwriting.  The band have toured back and forth across Canada and Europe since 2007, playing hyperactive shows everywhere from festivals to bars to living rooms – and once even a mental asylum in rural France.
Ariel and Mathias have just released their second duo album, 'Never Work', via BB Island Records on 1st May. The new album explores the gig economy, class war and rebellious self-service checkout machines.  It includes the recent singles, 'Never Work' and 'Rise Up Alexa', featured here.
The duo have also just released the first episode of a new TV show, entitled Everything will probably be ok. The hour long show features music, winter gardening, snow globes and a bird quiz.  What else were you expecting?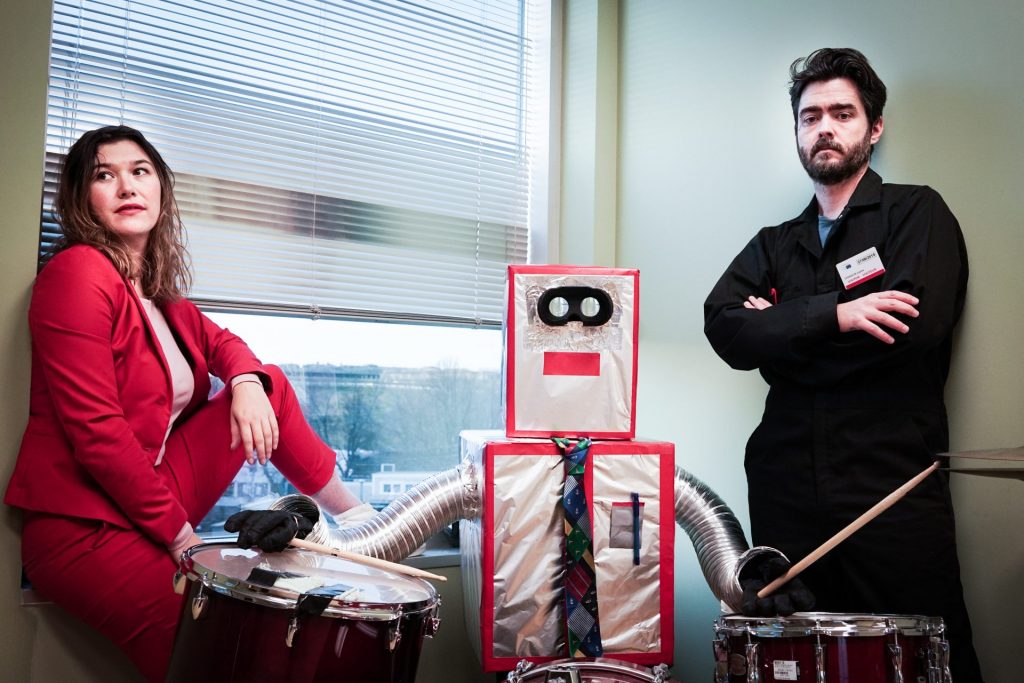 Are you keeping well and how are you spending lockdown?
Although I have to say it was a nightmare getting back to Canada via Australia and the UK in the midst of the week the WHO declared the pandemic, now that we're back home things are OK. We live way out in the country, so isolation feels more or less normal. We've been working on the garden, dabbling in DIY television, contemplating finally raising chickens, doing some live-streaming, re-booking all our canceled shows, and of course offering sacrifices to the vengeful gods of live music that we don't have to re-book them again.
Does music mean more to you now than ever and how are you responding to it creatively?
No virus could make music mean more to me than it already did, but what I am realising is how often I took playing or listening to live music for granted. Just the feeling of being in a room with other people, sharing the experience, chatting about the band or the songs—live streaming is a great temporary thing, but for me it will never replace actually being in a room with other humans. Having said that, we've been giving live streaming a go, and it's actually been a lot more fun than I expected it to be. Besides that and the TV show I mentioned above, I've been doing a lot of writing and just generally trying to figure out creative ways to cope with it all.
What music are you listening to right now?
In addition to a lot of "comfort music" (which for me includes Joni Mitchell, the Breeders, the B52s, Paul Simon, Willie Nelson, and The Roches) I've been spending most of my time listening to music made by other people who had tours cancelled because of Covid-19. Scottish friends Randolph's Leap have put out an excellent new collection of songs, and I've been really appreciating Daniel Romano's new live album, which is an astonishing reminder of the energy of live gigs we're all missing right now. And I haven't stopped listening to Richard Dawson's 2020, an album that seems more and more appropriate for our times the longer this all drags on.
Have you discovered any music gems during isolation?
There's always so much great music to discover! I'm a big fan of nearly everything Soundway Records puts out and have been especially into their "Kenya Special" compilations lately. I also just got a great primer in the Vancouver music scene through "Local Delivery Only," the record Apollo Ghosts just put out last week—35 covers of Vancouver bands, free to download, and for every time someone does download it the band is donating money to charity.
Get fit or embrace the bulge?
What bulge? What are you trying to say? I look great. And yes I will have that fourth piece of homemade cheesecake, it goes unexpectedly well with nachos.
Have you been surprised at the contents of your kitchen cupboards? And have you made anything delicious from said contents?
See above. Also, when and why did we buy so many bags of lentils? Like so, so many.
What habits have started to form or are starting to fade?
I've felt like everything has been turned upside down so much that habits of any kind aren't happening for me, other than the habit of excusing nearly any sort of laziness or indulgence by muttering something about "self-care."
What random things are you buying online?
I'm trying hard to stay away from ordering anything from Amazon lately because Bezos has done nothing but demonstrate that he really is an evil arch-villain lately, and instead I've been very non-randomly spending any extra money I can find on independent music, especially artists that have also had tours cancelled.
What are you doing to keep motivated? (Because by fuck it's hard)
 I get down a lot these days, but I find there are three things that help: listening to music that makes me reliably happy, watching Paddington 2 as many times as I like and not feeling weird about it, and reminding myself that people all over the world are trying really hard to be there for each other right now, and that good things as well as bad things will inevitably come out of this.
What are you most looking forward to doing again this is all over? 
 I suppose I should say I'm most looking forward to playing a proper live gig again, but even more than that I just want to hang out in a bar and talk to strangers.
And finally, have you anything you would like to plug or declare?
Our new album "Ariel Sharratt and Mathias Kom: Never Work" comes out on May 1, and you can listen, buy or order the LP/CD here.

In November and December, with a bit of luck, we'll be on our rescheduled tour supporting it. Our fingers are crossed.
Check out Mathias and Ariel's DIY public access television project: Everything Will Probably Be OK
0