Scottish Singer/Songwriter Amy Papiransky releases beautiful piano ballad, 'Dear Amy'.
Originally from Keith in the North-East of Scotland, and now residing in Glasgow, Amy – a music teacher by trade – has been writing and recording her own material for the last eight years.  In 2018 she was a finalist for the BBC Radio Scotland Young Traditional Musician of the Year Competition and in 2019 she released her critically acclaimed  debut album, Read Me Write.
'Dear Amy' is a beautiful reflective piano driven song of stillness and quietude.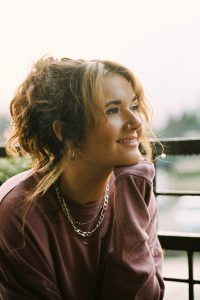 Written to Amy's younger self, 'Dear Amy' shares stories of hard times, loss and heartbreak with the overarching message that positivity and inner strength can see you through the worst of times. And, whilst the particular stories are incredibly personal to Amy, the overall theme of the song is something everyone can relate to.
Speaking about the track, the classically trained multi-instrumentalist Amy says, "I was inspired to write 'Dear Amy' after hearing Tom Grennan on BBC Radio 1 read a letter he'd wrote to his younger self. I experienced some very challenging events when I was younger and taking a moment to reflect on those times as an adult, to see just how far I've come, really resonated with me."
"These experiences turned my world upside down at the time but how I dealt with them has shaped me into the strong woman I am today. I'm proud of who I am and what I have overcome, and "Dear Amy" is chance to let my younger self know that."
The lyrics were written as Amy sat at her piano in her flat in Glasgow. "I wrote the song in one sitting, which doesn't usually happen!" says Amy. "I then contacted my friend Angus Lyon – who produced and recorded my debut album – Read Me Write – and we recorded the track in one afternoon at his studio – 'Gran's House Studio' – in Lamington.
'Dear Amy', is available here.
Discover more about Amy Papiransky: Website | Instagram | Twitter | Facebook
0