Prolific young Scottish singer-songwriter, Calum Jones releases his third album, MirrorGlass.
We first met Calum Jones a couple of years ago when he impressed us in session for Netsounds at the XpoNorth festival in Inverness and Belladrum Tartan Heart Festival.  The young and ambitious artist hails from picturesque Highland village of Oran. He has supported and toured with fellow Highland acts Skerryvore and Elephant Sessions as well as the likes of Callum Beattie and played almost every festival going and wrote his third album MirrorGlass, all whilst still in his teens.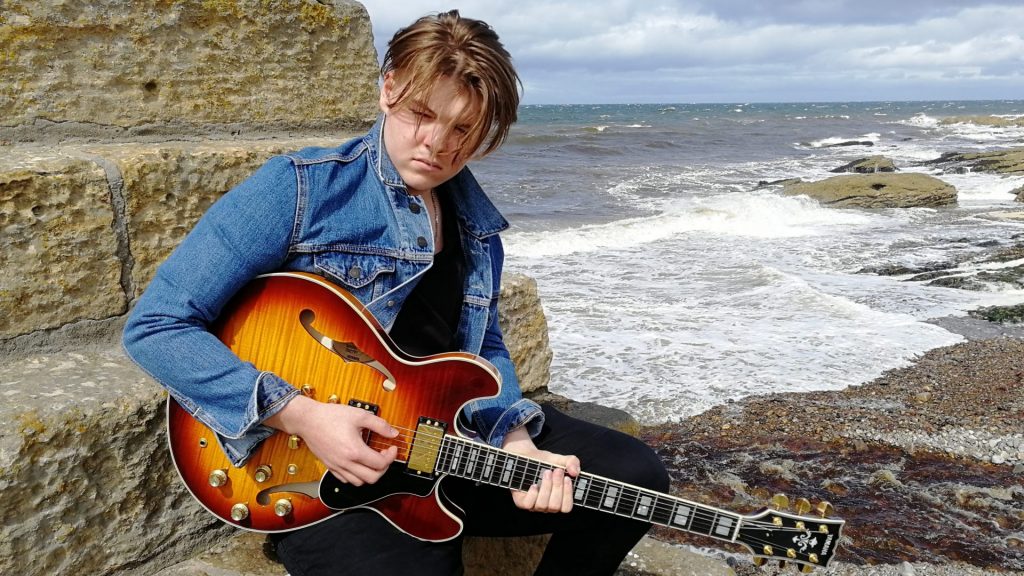 Tell us what you've been up to this year? How has the pandemic affected you? All negative or some positive stuff too?
"I've had a really intense release schedule this year dropping a new single every month since January, in the lead up to the release of my third studio album MirrorGlass so that has kept me very busy (it's too much I won't do it again haha).
With gigs and live events being cancelled it has been a real challenge to stay motivated, but I've been spending the time trying to get better with my social media and growing my fanbase (the #CJfamily). I've also been learning how to create content like music and lyric videos myself which I've never done before.
I planned to write as many songs as possible whilst I've been shut away from the world – but in all honesty I've found it incredibly difficult and I've only written one new track. On the plus side, I've sold out the first pressing of MirrorGlass!!"
We know most of your income is from your music and particularly playing live – how are you surviving the covid nightmare?
"I'm a self-employed musician and all my income came from gigging in pubs and clubs so I've currently no money coming in at all since there is no live music scene. I'm just really lucky that I could move back home with my parents so don't have many expenses like rent etc. I was also really lucky to have finished recording MirrorGlass before the pandemic hit so I've been able to keep putting music out every month as planned, but it's been tough as I've no earnings to put into promotion, and you can't meet people to shoot photos or videos etc (that's why I've been learning how to make my own).
I've been doing livestreams every Thursday night on social media to keep in touch with my fans and I'm looking into some funding options to try and keep my head in the game and keep making new material for next year too."
You're a really prolific young songwriter (and multi-instrumentalist) how many albums have you released so far? What's your process for writing?
"I currently have two full studio albums, an EP and a string of singles out on all the major platforms, my third album MirrorGlass officially out on 27 November 2020. I don't really have a specific writing process or style and write tracks as and when they come to me based on how I'm feeling at the time. Sometimes I can be noodling on my guitar find a nice chord progression or riff and keep running it round until some lyrics start to come together. Other times it starts with some lyrics and I build the song around them or I can be letting off steam on the drums and find a groove I really like and start to develop a song from that. It depends, I think that's why I write across multiple genres because it all comes down to my mood and what instrument I'm playing at the time."
We've seen you play under your own name and with your TradProject (it seems festivals love booking TradProject too) – tell us briefly what is the Trad Project?
The Trad Project is a side project I put together a couple of years ago. I started my musical career as a drummer playing in traditional folk bands and have always loved the music, so I often found myself writing tunes that didn't fit the singer-songwriter, rock, pop vibe I was performing solo and I didn't want them going to waste. I'd always wanted to have a really high intensity trad/rock band to perform full on foot-stomping fun at festivals so started jamming with some friends and it seems to have gotten an amazing response.
 Career highlights so far and future ambitions / milestones?
"I absolutely love playing to a live audience and I've played a lot of amazing gigs and festivals over the past few years so it's really difficult to pin down one specific favourite but there are a few performances that stand-out. Belladrum Tartan Heart Festival, Eden Festival, Stramash (in Edinburgh) & the Inverness Red Hot Highland Fling at new year in front of 12,000 people was pretty insane (in a good way).
Having my music played on BBC Radio 2 was pretty awesome too, as is the continued support I get from the BBC and radio stations across the world.
But the best thing this year has been seeing my fanbase, the #CJfamily grow and how they've responded to each new release and I really can't wait to share the album with them and catch up in person once we get out of lockdown."
What's next for you this year and into next?
"Well with the new album coming out soon that'll hopefully keep me busy for the rest of this year and then as soon as live shows start happening again I'm planning to gig and tour as much as possible, get back out there and see the #CJfamily in person. I'm also planning to get back in the recording studio and start working on next year's album"
Tell us something most people don't know about you?
"I'm terrified of the dark, to the point I have to leave the TV on in the background to fall asleep. On the plus side I think that probably means I'll hold the record for watching 'It's Always Sunny in Philadelphia' the most on Netflix."
 Calum's third studio album MirrorGlass is out available now on all major platforms.