Joyous Scottish folk-pop collective, Randolph's Leap release new single, 'Up In Smoke' from forthcoming album, Spirit Level (Fika Recordings).
You know things are on the up when Randolph's Leap treat you to sneaky listen of their next album, Spirit Level, which is due to be released in February 2021. All I can say right now is that fans of the mini folk-pop orchestra are in for a treat; the album is packed with melodic witty tales and gorgeous melodies. We will report back later.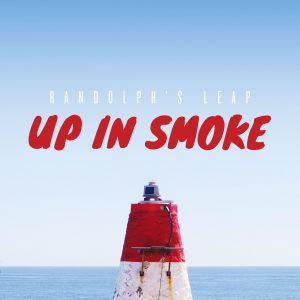 For now you will have to settle for the first single to be lifted from the album, 'Up In Smoke'. It's a bouncing lead single and classic Randolph's Leap: a jaunty melody, catchy chorus and witty lyrics all culminating in a glorious brass filled romp.
Songwriter, Adam Ross said of the track: "The song was written over a year ago and was inspired by small, personal failures but the sentiment has become weirdly relevant and anthemic in 2020. Pete's flat where we recorded the album burned down, for one thing, but there's also the universal feeling of plans and aspirations going completely up in smoke this year. I can't wait to sing it live – I think it could be quite a cathartic experience."
Recorded over a period of a year in Glasgow with keyboard player Pete MacDonald engineering, mixing and producing the sessions at home, the album went off to mastering in the nick of time: the following night Pete's flat went Up In Smoke in a massive fire, taking everything bar Pete (and his pet hedgehog, Frida) with it.
'Up In Smoke' is out now on all major platforms and Spirit Level is released on Fika Recordings on 26th February 2021.
Randolph's Leap started out as a pseudonym for the solo output of Adam Ross, and now includes up to 8 people in the full live band. The debut Randolph's Leap album, Clumsy Knot, came out in 2014, with another four live and studio albums and a handful of singles across labels Fence Collective, Olive Grove Records and Lost Map. In 2018 a touring theatre show called The Isle of Love was devised around the songs of Randolph's Leap.
Discover more about Randolph's Leap: Facebook | Website | Twitter
Discover more new music…
Keep up to date with what we are listening to: follow our regularly updated Spotify New Music Playlist .
For live sessions subscribe to our YouTube channel and follow us on Facebook, Twitter and Instagram.
0