Q&A with Edinburgh based artist, Katherine Aly as she celebrates the release of new single 'Butterflies'.
Although a relative newcomer on the music scene,  Katherine Aly's unique sound and talent has her perform in a short time across the UK in legendary venues including The Dublin Castle (Camden, London) and King Tuts Wah Wah Hut (Glasgow).  She has also received  radio play on BBC Introducing, Amazing Radio and on radio stations in the USA, Canada, France and as far afield as Australia.
Originally from Greece, and having studied Art & Design at the University of Amsterdam, Katherine Aly is now based in Edinburgh and she is a prolific collaborator including with: Chuchoter, Midi Paul, Glassmasterer, False Bliss and more.
'Butterflies' is a masterfully produced hypnotic alt-pop single.  The lyric video for, 'Butterflies' is debuting here on Netsounds.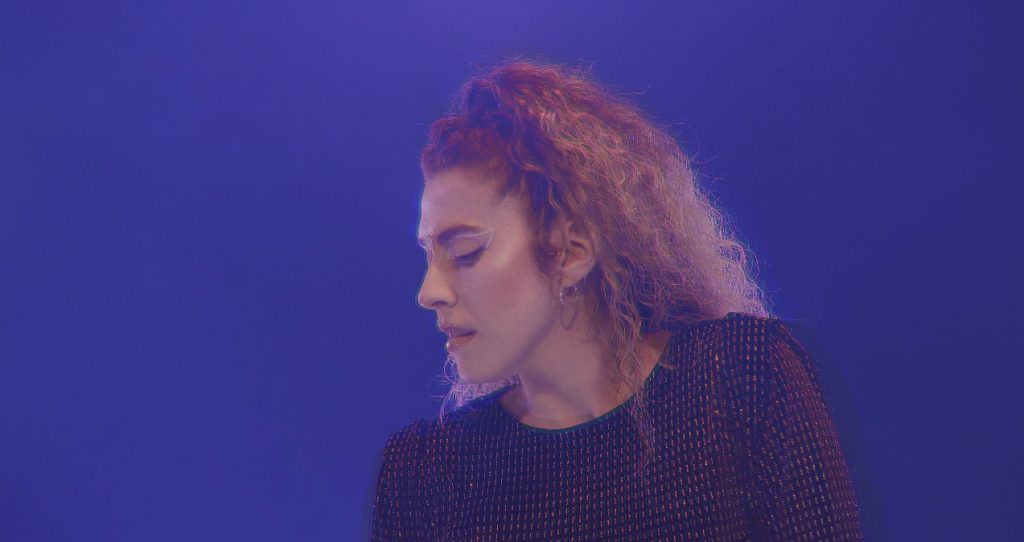 What is your new single Butterflies about?
It's inspired by the film Call Me By Your Name.  It is a love song, about finding yourself in the other; being elevated by and experiencing an electrifying relationship that challenges you emotionally and intellectually while overwhelmingly shaping your identity.
How are you finding the pandemic, anything positive or all negative?
I'm not going to lie, I've struggled a lot with my mental health and still am, just like many people. What we're going through is soul crushing and heartbreaking it's causing a lot of anxiety. Somehow during all this I found the energy to write new songs thankfully; being creative has helped me a lot and I can say proudly that I feel like my songwriting has never been better. Live streamings is another thing I've enjoyed recently; reconnecting with people through my music brought tears in my eyes – honestly! The MOST amazing experience (before the new restrictions and ONLY for fans who have subscribed to my mailing list) I played an actual in-person, a secret gig, outdoors (and socially distanced). I can't tell you how much it meant to me, it has been so long since making that connection with a real live audience hearing people clapping and cheering it honestly lifted my spirts so much (THANK YOU), I wanted to do one every day or every week!
 What are your plans for 2020, we're guessing Covid-19 has forced you to make changes or rethink things?
Like most musicians I've already re-scheduled shows for next year. The worst thing is not knowing IF we'll be playing live next year it's horrible. I'm currently writing more songs to release next year. I donated a song to be featured on a CD released by The Skinny to help them return, I played a live session for The Skinny and Kelburn and I've played loads of wee acoustic shows with my band too. My manager and I have been working relentlessly during all this to keep taking steps forward so hopefully by the time the pandemic is over we'll be in a good place to continue like this never happened. Best way to keep being updated is following my socials… there's a lot going on there! (or better still my mailing list and maybe you can come and join us for an outdoor performance soon) visit the link here.
Tell us a bit about yourself, how did you get into music, how do you find Edinburgh?
I've been writing music since I can remember. I'm originally from Greece, which is where I started doing music more seriously before I decided to move abroad. I've always wanted to move to the UK because of the music scene and I'm very happy I ended up in Scotland, people are so welcoming and the music scene is so strong! I like having Edinburgh as my base because it's quiet, safe and absolutely stunning but I also spend a lot of time in Glasgow (where my band members live too).
Are you also an artist in the more traditional sense i.e. painting / drawing – your website seems to mix cool art AND of course music projects?
I'm not an artist in that sense, however I studied Art & Design at the University of Amsterdam, where – simply put – I examined various cultural phenomena through different types of art, hence my website also including a 'Your Art' section, where I write my personal views on paintings, sculptures, theatre shows, art events etc. I really enjoy reflecting on other people's creativity, which I find very inspiring.
You have an impressive track record of successful collaborations, how do you usually approach that and what inspired your solo releases?
It really depends; I met Lewis (Glassmasterer) via an app for musicians that want to collaborate – it was amazing! On the other hand I was introduced to Phil (Midi Paul) by other creative people who highly recommended we did something together musically. Other times, friends of mine ask me to do something for them, like what happened with False Bliss, or I suggest we worked on something, like with Emily from Chuchoter, with whom I covered No Time to Die by Billie Eilish. Thing is – as much as I love the freedom of working as a solo artist, I do truly miss writing music collaboratively, hence all these collabs!
Career highlights / what's next?
I could mention artists I've opened for, international airplay, press and stuff but to me seeing my fanbase growing, especially during a pandemic, is the most rewarding thing and a recurring highlight (thankfully!). Nothing makes me happier than people responding to my music and wanting more; I do what I do to share things that hopefully people can identify with and dance/sleep/think/get angry/cry/ sing/breakup/makeup/live a full life to; and what's coming up is A LOT more of that!
Discover more:  Facebook | Twitter | Instagram | Spotify
0