In May 2021, Glaswegian singer-songwriter Jordan Phillips released her debut single "Something Otherworldly".  Her next release sees her provide vocals to the single "carry the weight" by Scottish musician and producer fin.
Jordan Phillips is a Scottish vocalist who also performs with function band Juniper usually in venues across Scotland but most recently, in livestream concerts with Gilded Balloon and David Tennant. Performing with Juniper has strengthened her love for music and the release that comes with collaborating with close friends. In addition to this, she is regularly involved in session work and capable of finding her own truth in other musicians' projects.
Through establishing her own writer's voice, Jordan's compositions draw inspiration from artists like Angel Olsen, Phoebe Bridgers, Hayley Williams and Faye Webster.
Her next release, 'carry the weight' is the new single from Scottish musician and producer fin, featuring vocals by Jordan Phillips. Set for release on the 11th June 2021, the track is the lead single from fin's upcoming debut solo EP 'the sky is looking nice'. 'fin', is the musical alias of Finlay Mowat, an Edinburgh based musician and producer.
As frequent collaborators, fin and Jordan have worked together on a number of different musical projects. The two worked remotely during lockdown to write and record the single.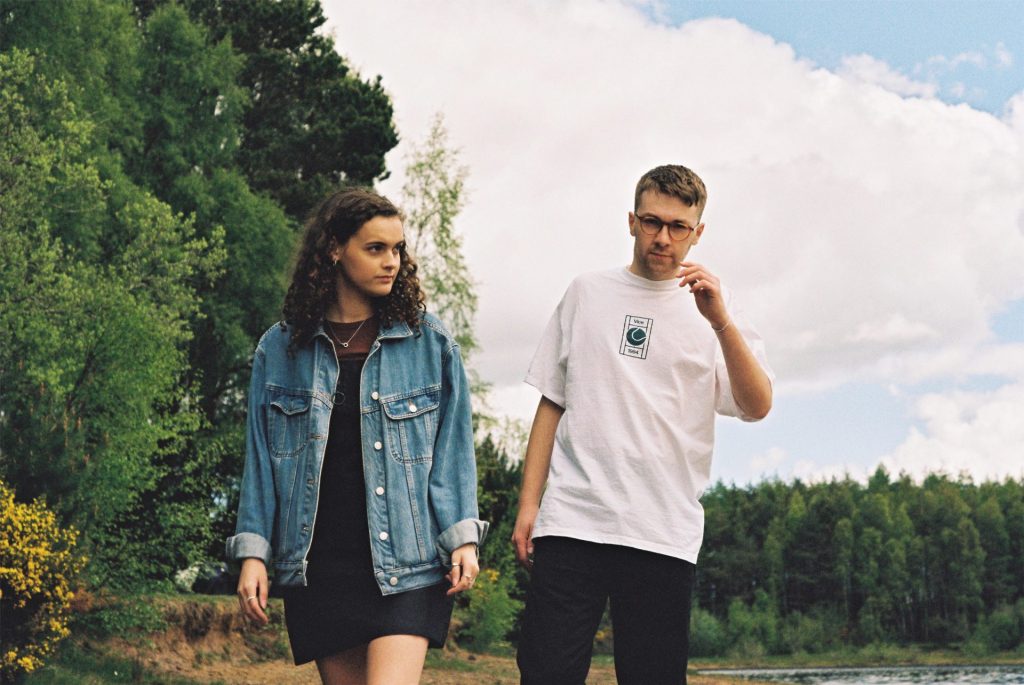 Hello Jordan, how are you and how have you been spending this past crazy year or so?
Hi Jamie, I'm doing well. I've just finished my degree in Popular Music so I've had a lot to keep me busy this year. It's been such a different experience from what I initially anticipated, but this year gave me the time to sit down and write, leading to my single Something Otherworldly being released.
You did some live stream gigs during lockdown, how did you enjoy these and what other online gigs did you enjoy watching?
Yeah, I was part of a performance stream and it was so good to have that opportunity. Nothing compares with live gigs but I learned a lot about the production and video editing side of things. I got tickets for Jade Bird's livestream from RCA back in February and it was amazing. I think these streams are such a good way of promoting your music, and creating an event that you need tickets for helps to make it feel exclusive, like a live gig.
Who did you draw inspiration from for your new songs?
I've been listening to a lot of Phoebe Bridgers, like everyone has. I honestly think she's a pioneer and it seems that everyone can find something to connect with in her music. For me, it's the bluntness of some of her lyrics and interesting subtleties within the instrumental. I'm a fan of Lianne La Havas too, and I'd say I'm inspired by her voice and introspective songwriting.
'Something Otherwordly' is about grief, was that difficult to write or did you feel it was something you had to do?
It's not the cheeriest subject but, to be honest, it just came out. I was sitting with my guitar playing simple chords and tried out some lyrical ideas and they resonated with me. I think the writing process helped my understanding of grief, I'm typically quite a reserved person, so in a way, I guess it was something I had to do.
What's next after this single, have you any plans to follow it up with an EP or album?
I have a single coming out on 11 June with my friend and collaborator fin. It's a bit of a different feel, drawing more on influences from R&B artists like Jorja Smith, but still with personal lyrics and textural subtleties that I explore in all my writing.
Everyone is itching to get back and see live music again, have you any plans to play live soon?
I can't wait to play live! I'm looking forward to getting back to some pub gigs and functions. It's a different experience, but sometimes there's nothing better than playing your favourite pop songs with your friends.
Have you got any tickets for gigs, or anyone you are looking forward to seeing play live soon?
I've got tickets for The Staves in September which I'm so excited for, I know it'll be angelic. And then in October I'm going to see Joesef which I'm buzzed about. I'm obsessed with his two EPs so I'm looking forward to seeing him live.
Who is on heavy rotation on your playlists just now, have you got a current ear-worm?
I've had Faye Webster on repeat recently. I saw her live a few years ago and her songs are so engaging. I love her blend of R&B and folk; she makes the mundane interesting. I'm loving Katie Gregson-MacLeod's new stuff too – so catchy.
Featured image of Jordan Philips © Olivia Walker
Discover more about Jordan Phillips:  Instagram | Twitter | Facebook | Website
0