Josh Rawson (The Felice Brothers) talks about his new project, Philip Goth and latest single, 'Pole Dancing 4 Funerals'
Philip Goth is the project of Josh Rawson, former member of American folk-rock collective, The Felice Brothers playing bass and writing some of the band's songs.  Philp Goth's self-titled debut album is released through the wonderful Team Love Records on June 11th.
For the past few years Rawson has been writing and recording Philip Goth's debut album in a spare bedroom in Philmont, New York, by himself, while working various jobs. What drove him during these years were the surprising, deeply troubling and often hilarious things he would sing into his computer every night.
Through Philip Goth, Rawson steps out on his own and creates something quite different: witty and honest lo-fi indie pop. On the latest single, 'Pole Dancing 4 Funerals' it sounds like a dotty synth pop journey through memories and old haunts in the Hudson Valley including Team Love's home, New Paltz. Standout line has to be, "When you're drunk wet parking lots look impossibly beautiful".  We've all been there, swaying into the glassy tarmac, thoughts locked in another moment.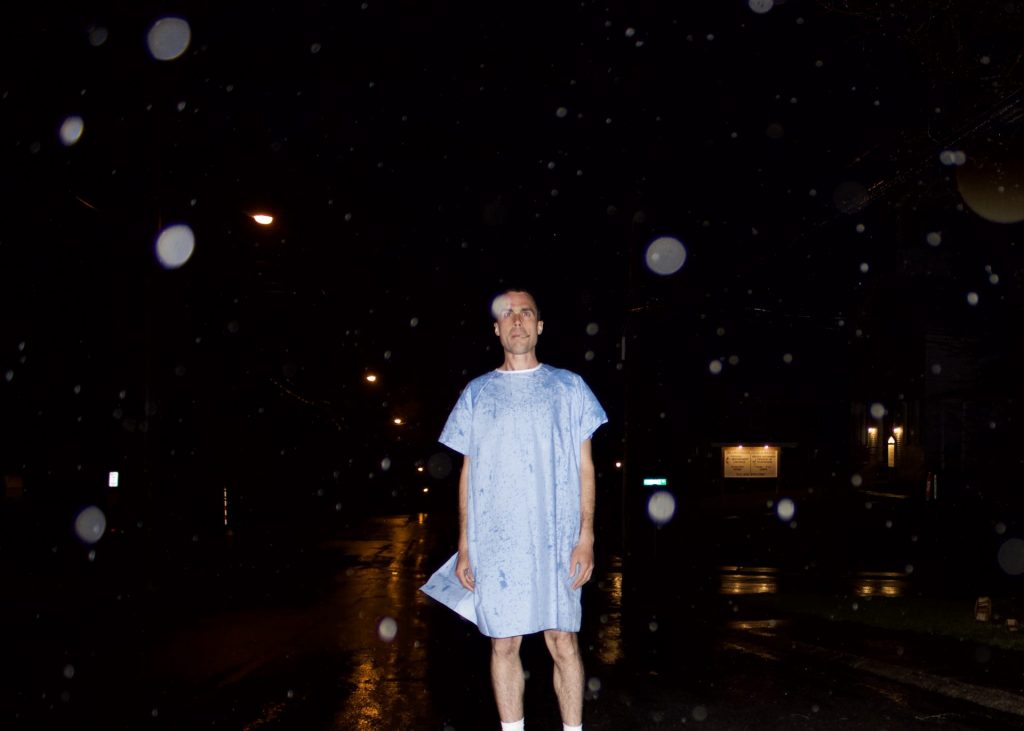 Hey Josh, how are you and how have you managed to keep afloat during lockdown and this past year or so?
I had a kid right before COVID hit so I try to keep her alive every day. I pretty much hate everyone so staying away from people wasn't a stretch. Rich people still didn't want to shovel their own mulch so I was fortunate enough to have a job which kept me busy.
Did you ever think for a minute, "hey I'm gonna release an isolation anthem?"
All of the songs on my album were written before the pandemic so none of them have any isolation vibes. It seemed like every piece of space in the cultural imagination was being occupied by pandemic related corporate speak like "unprecedented times" and "zoom parties" and "quarinitini ". I personally didn't feel like I had anything to add that wouldn't instantly feel like an SNL sketch.
You recorded and played live with The Felice brothers for over a decade or so and now this new project, Philip Goth. How did that compare to the new approach – writing and recording this album entirely on your own?  It sounds a very DIY affair.
Being in a room full of people can feel great or it could feel bad. Being in a room alone can feel great or it can feel bad. I completely loved slamming my head against the wall over every detail of my record for three years in a bedroom and it also felt like being waterboarded.
I guess you could have called on a number of musical friends to record with, why did you decide to perform all the duties for this album yourself, was it control or protection over the songs and personal nature of them?
A couple of my friends did play a part or two here and there. I wanted to go into a studio and have a producer, engineer and talented musicians but I didn't have any money. That was painful to realize. It's expensive to make music even though it gets transformed into worthless fractions of pennies. So I had to do most things by myself. It was a business decision. I am a business, man.
Philip Goth's debut album is on June 11th, what's inspired the songs on the album, it sounds like there was some kind of turmoil or uncertainty?
Yeah my life is weird. It's been a trip the last couple of years. There isn't a lot of symbols or poetic license on the record. If you hear me say something there is a good chance that it's completely true. Listen to the songs, these things happened to me. Everybody's life is fucked though. Some people drink vodka all day to get through it. I tried singing about it into a computer.
What musical well did you draw inspiration from for Philip Goth, what artists inspired the sound?
The things I thought about while making this record were people who did a lot with a little. Daniel Johnston and a band like Suicide are able to build entire universes with just a couple components. Same with Arthur Russell. People whose music is so unique that who they are completely fills every second. World eating and skull crushing with just a cello or dollar store acoustic guitar or a synth and a drum machine. These are things I thought about and strived for.
What does the future hold for Philip Goth?
I've got no clue. Maybe if people somehow find it and like it, it'll be easier to pump these things out. But I'll keep at it.
How would summarise Philip Goth in five words?
Stealing minutes of your life.
Philip Goth by Philip Goth is released on June 11th 2021 via Team Love Records.
Discover more about Philip Goth: Bandcamp | Instagram
1