Olive Grove Record's head honcho, Lloyd Meredith chooses some of his favourite tracks for his Takeover Playlist.
Lloyd is the enthusiastic and passionate owner of Scottish independent record label Olive Grove Records.  I first "met" Lloyd through the internet (doesn't everyone these days) when he run his Peenko music blog which introduced readers to an amazing collection of new artists and bands from all over Scotland.  It was definitely an inspiration for us in expanding on our podcast and roaming into the world of blogging.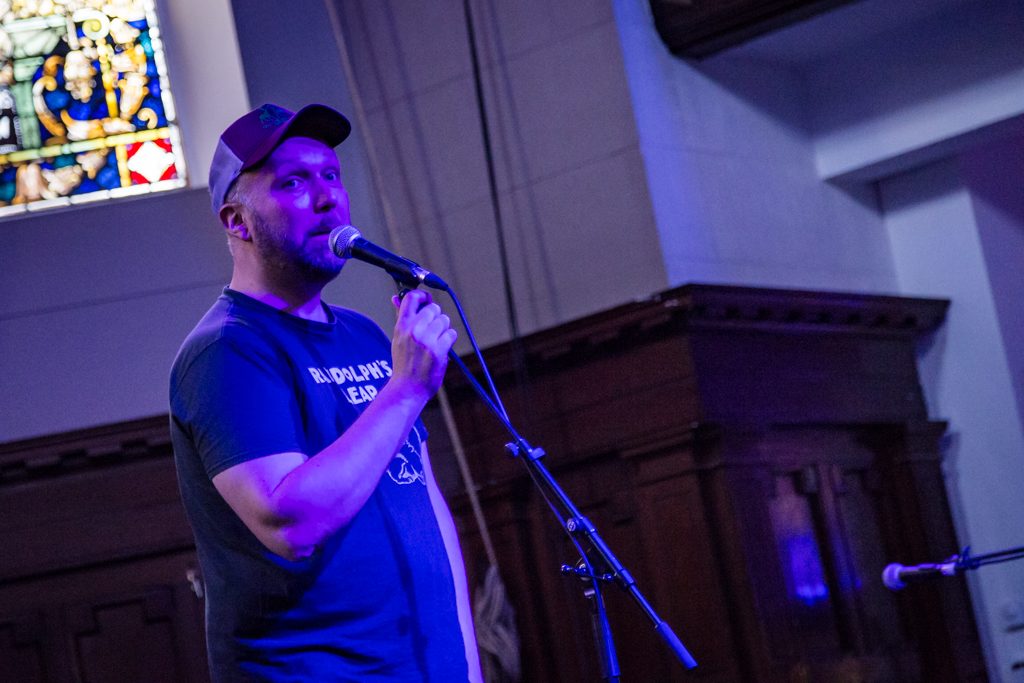 Lloyd left the blog behind and went on to form Olive Grove Records. Fast forward almost seven years to 2017 and the Glasgow based label has released a plethora of quality Scottish acts including Campfires In Winter, Ette, Call To Mind, Jo Mango, Woodenbox, The Moth & The Mirror plus more.  Lloyd has also managed to find the time to manage and release records from lofi indie popsters Randolph's Leap.
It's not surprising to hear that Lloyd has more gems planned for release in 2018…
Discover more about Olive Grove Records: Bandcamp | Facebook | Twitter
All images by kind permission and © Brendan Waters Photography
Playlist cover art © Al Donnelly
Click on the player below to listen to the mixtape and read about Lloyd's selections in his very own words.
Press play and let it run.
1. Stars – From The Night
I honestly don't know why Stars aren't one of the biggest indie bands out there, their 2005 album Set Yourself On Fire is up there in my ten albums of all time. Rather than choose something from that, I have plumped for From The Night, which I think is one of the finest pop songs that I have heard in years.
2. Urusei Yatsura – Kewpies Like Watermelon
Back when I first started going to gigs, I spent a lot of my formative years going to see local bands in King Tut's. One of my favourite bands from that time were Glasgow lo-fi outfit, Urusei Yatsura. I recently found myself revisiting their first album, We Are Urusei Yatsura, which got me very nostalgic for those early days of falling in love with up and coming Scottish indie bands.
3. The Tuts – Tut Tut Tut
Nowadays I find that a lot of the new music that I listen to comes from recommendations from friends, in the case of The Tuts, I was down in London last year with Randolph's Leap for show that they were playing for some amazing promoters called Early Doors Disco. They wouldn't stop raving about this new girl pop punk band that they'd seen at Indiefjord in Norway I am thankful that they did bang on about them as they're super ace and super catchy too.
4. The Delgados – Coming In From The Cold
I was a bit late in joining the party in terms of listening to the Delgados, it wasn't until I saw them play at St Andrew's in the Square, a beautiful old converted church in Glasgow. It was this song that got me hooked, 15 years on and the opening bars still give me goosebumps.
5. Snow Patrol – Never Gonna Fall In Love Again
I know, I know, I know… I am not going to gain any street cred by adding Snow Patrol to my playlist, but to be honest I don't care. The bands second album, When It's All Over We Still Have To Clear Up, is lo-fi pop gem, which helped get me through some pretty tough times. When it came out back in 2001, I'd just moved back up to Glasgow from Liverpool and I was feeling a bit lost as to what I was doing with my life. This song meant a lot to me at that time and I guess it still does, so much so that I took the title of one of the songs from this album to use for the name of my label.
6. Whitney – Polly
I honestly can't get enough of Whitney, their debut album, Light Upon The Lake was pretty much all I listened to last year. Apparently Elton John's a massive fan of them too, so I guess I am in good company.
7. Kevin Morby – City Music
I am a wee bit obsessed by this song at the moment. I couldn't really tell you too much about Kevin Morby, I just stumbled across this song on The Roddy Hart show a few months back and have pretty much been in love with it ever since.
8. Michael Fassbender – I Love You All (Credits) (from the Frank soundtrack)
If you've not seen the move, Frank, then I suggest you check it out even it's just to hear this song.
9. Tindersticks – Travelling Light
Many many moons ago, back in the day when actual mixtapes were a thing, I used to make them religiously from my friends. My friend made a  tape once which had this song on it and I have loved it ever since. It's one of my all time favourite songs and I couldn't not make up a playlist without this on it.
10. Jo Mango – Wisps of Something
I tried really hard not to include any Olive Grove artists on this mixtape for fear of showing favouritism, hey you can't be seen to have a favourite child can you?! Wisps of Something is taken from an EP that I put out last year in my memory of my dad. It's my favourite song of Jo's and it means a hell of a lot to me, so I couldn't not share it.
11. Alex Cameron featuring Angela Olsen – Strangers Kiss
I'm utterly obsessed with this song at the moment, I've pretty much had on repeat for the past month. If you like this then check out his new album, Forced Witness, it's already my album of the year.