The Joshua Hotel is the new project of multi-instrumentalist songwriter and producer, Joshua Mackenzie.
Scottish artist, Joshua Mackenzie is probably best known as lead singer, lead guitarist and songwriter for Inverness based indie-noir rock band, Lional. The band have released a string of well received singles and have toured across the UK, Europe and the USA.
During lockdown Joshua hit a creative run of writing and recording at his rural home studio deep in the Highlands of Scotland drawing inspiration from an eclectic mix of electronic artists such as Metronomy, Human League, Depeche Mode and Mount Kimbie. The outcome is an album of heartfelt and introspective lo-fi indie-electro songs which chronicles personal loss, tempestuous relationships and nostalgic longing during a global pandemic.
Debut single 'The Moments' is out on Friday 5th of Feb 2021 and Part 1 of the album is due out later this year.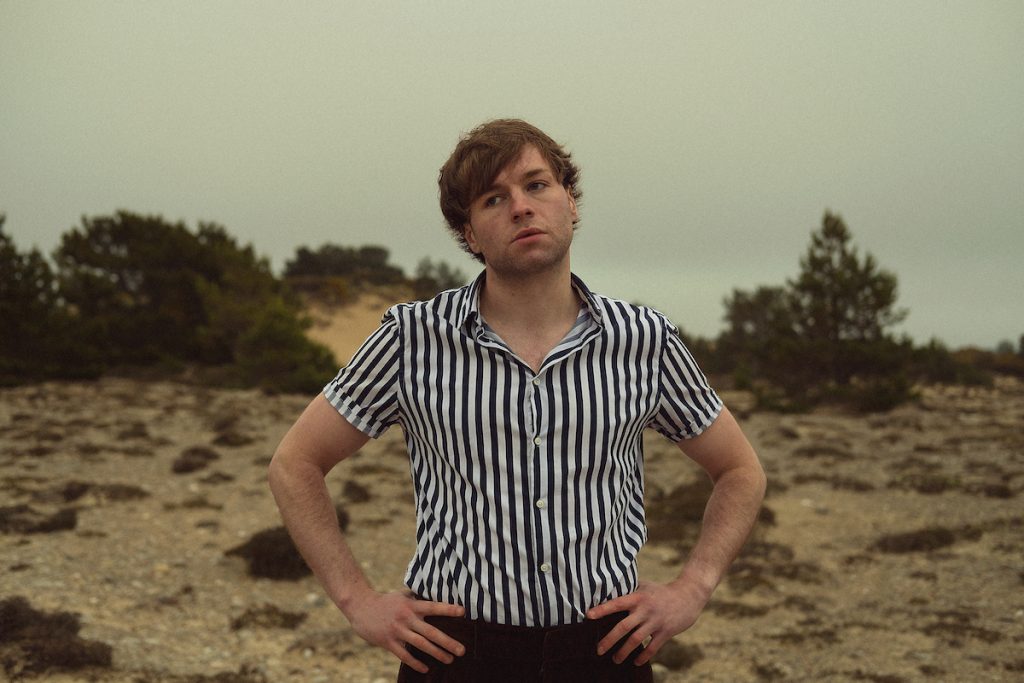 Hey Josh, here we are again with another lockdown, how are you holding up and what's keeping you going?
I'm holding up alright. January is always a bit of a nonstarter anyway, even on a good year… Not putting too much pressure on this lockdown to provide me with any spiritual epiphanies. It's largely consisted of documentaries on serial killers of the 80s or prolific basketball teams of the 90s. I've been kept productive with planning the debut single and also getting together everything for a Lional release.
You've new music out under the name of The Joshua Hotel, what's the story behind that and where does this leave Lional?
Well, initially it wasn't meticulously thought out that I would start a new project with a certain genre of music in mind. When lockdown hit and I got over the shock of the world as we know it ending, I just hit this really creatively fertile run of producing songs. I quickly realised that this stuff was coming from a different place and it needed to have its own space, separate from the band. I am so impatient when it comes to writing and recording music, I fall in love with an idea, but it all needs to get moving very quickly or the essence of that idea starts to fade. There was obviously no way of the band operating for months at the peak of lockdown, so I had to do something else to keep myself moving. I didn't even think that I would bother releasing any of it, but some trusted friend's whom I'd been sending the stuff to encouraged me to go with it!
The band is still as it was. There's new music in the can and we are very excited about our next single. I don't think my new project will limit band activity at all. The rest of the guys have their own commitments in life which take up a lot of their time and energy too, it all levels out.
The lyrics for new single, 'The Moments' mention "glass tears" and "you bled the colours out of the painting", sounds like you are writing about turbulent times?
Yeah I think during the lockdown I reflected on my entire young adult life up until that point and it found it's way into these songs. This song was just about capturing that feeling you get after someone dies or a relationship ends of excessively sentimentalising things and having these bittersweet ghosts of nostalgia linger around you.
There's an album on the way or at least part 1… what can we expect from the album and how easy was it making that this past year?
The album is essentially Top of the pops 2 with David Lynch presenting.
Who were your musical influences when recording these new songs?
I suppose artists who have lots of electronic components to their sound, but ultimately still write well crafted songs. Acts like Metronomy, Depeche Mode, The Human League, Tame Impala, but also more classic acts like Scott Walker, The Doors and The Beach Boys. I wanted to capture a bit of a dreamy, nostalgic essence, bits of baroque and old chamber pop. For the lyrics I was listening to a lot of Nick Cave and Leonard Cohen and reading a fair bit of Edwin Morgan. A huge influence for this stuff was also film. Sometimes a film depicts complexities of the human condition in a way that's just as inspiring to me as great songwriting. During lockdown it was Paul Thomas Anderson, Wes Anderson, Stanley Kubrick and David Lynch films.
Has lockdown given you time to focus more on writing in a way that maybe you might not have done in normal circumstances?
Yeah, I feel I was able to take the time to really dig deeper within myself to find what I wanted to say as a songwriter, with more authenticity than ever before. Ultimately that has led to more concise and focussed songwriting.
Do you make music primarily for yourself or with an audience in mind?
I write songs that I would want to listen to and lyric writing is a form of therapy. If there's something unresolved in my mind and it's causing some form of emotional strife, popping it into a song can disarm it. It's only natural that people listening will have gone through or felt something similar and can get the same relief and feel a sense of belonging from listening to your song. That's just a naturally occurring byproduct of being genuine in your creativity, I think. I don't understand the idea of writing songs as a vehicle to crack some market. I once wrote a song for the band with the intention of trying to get noticed or in the hopes it would turn industry heads and provoke some reaction of "oh, wow, Lional have commercial sensibilities. Sign them!" and it was such an utterly empty endeavour. Maybe if it actually worked I would have a different opinion on the matter… Who knows.
And finally, you've got a pretty eclectic taste types of music, regardless of musical style, which 3 or 4 acts would you take on tour with you if you could?
Oh, probably bands that provide a bit of a spectacle and celebratory atmosphere to their live performances. Soulwax, Metronomy, Arcade Fire, Christine and the Queens or maybe LCD Soundsystem.
0