Scottish singer-songwriter Justboy has announced the release his debut single Better Off.
Justboy is Inverness artist, Dale Sutherland of alt rock duo Alkanes. His new project, Justboy is an outlet for his ruminative and despondent songwriting shaped by the end of a long-term relationship relationship.
There's a loneliness in 'Better Off' – the loneliness one feels after taking stock and wondering what's left. It explores the bittersweet nature of having to let go of that person we once thought was going to be 'the one'. Sutherland's lyrics delicately balance the gut-wrenching pain and remorse of telling a loved one it's over with the confidence to look ahead and know that such a difficult decision was the right one.
Inspired by indie-folk luminaries such as City and Colour, Bon Iver and Hozier, Justboy's soulful vocal passages and atmospheric songwriting captures the vulnerability of his lyrics in visceral fashion.
'Better Off' will be released across all major digital platforms on 29th January 2021.
We caught up with Dale ahead of the release.
Are you keeping well and how are you spending lockdown?
I'm very well despite the continuing weird times we are living in! Although I finally have my debut single coming out, I've not felt too creative. Having said that though, I've just started working on some more covers to continue 'justboy's home tapes' which is a series of raw and stripped back sessions I started during the original lockdown period last year. I've also been working on a PR campaign for a great artist based in Edinburgh called JORDAN. He has a brand new EP coming out in March and it's been great to step out of my comfort zone and work with a different style of music.
Does music mean more to you now than ever and how are you responding to it creatively?
Music has always meant a great deal to me but I've certainly learnt to appreciate it a lot more since being "grounded." I've been trying to improve my writing a lot, particularly during the last lockdown. I've got a lot of ideas that I'm hoping will eventually become a full Alkanes record. With everything I have been listening to and inspired by recently, I'm trying to be a bit more flexible with my writing and to not feel the pressure of genre limitations. If I vibe with it, it stays!
What music are you listening to right now?
I've been obsessed with the latest Phoebe Bridger's record. I think with the approach I've taken with writing the Justboy stuff, being so honest lyrically, I can relate to her music a lot. The last Gold Key and O'Brother albums have been on repeat since they came out early in the first lockdown too. I think both of those records play with so many elements and styles. In my mind they are true modern Rock masterpieces.
What is keeping you motivated?
Music is very much keeping me motivated. I've also got a 6 month old puppy who keeps me on my toes and getting out and about with him is great and clears the head!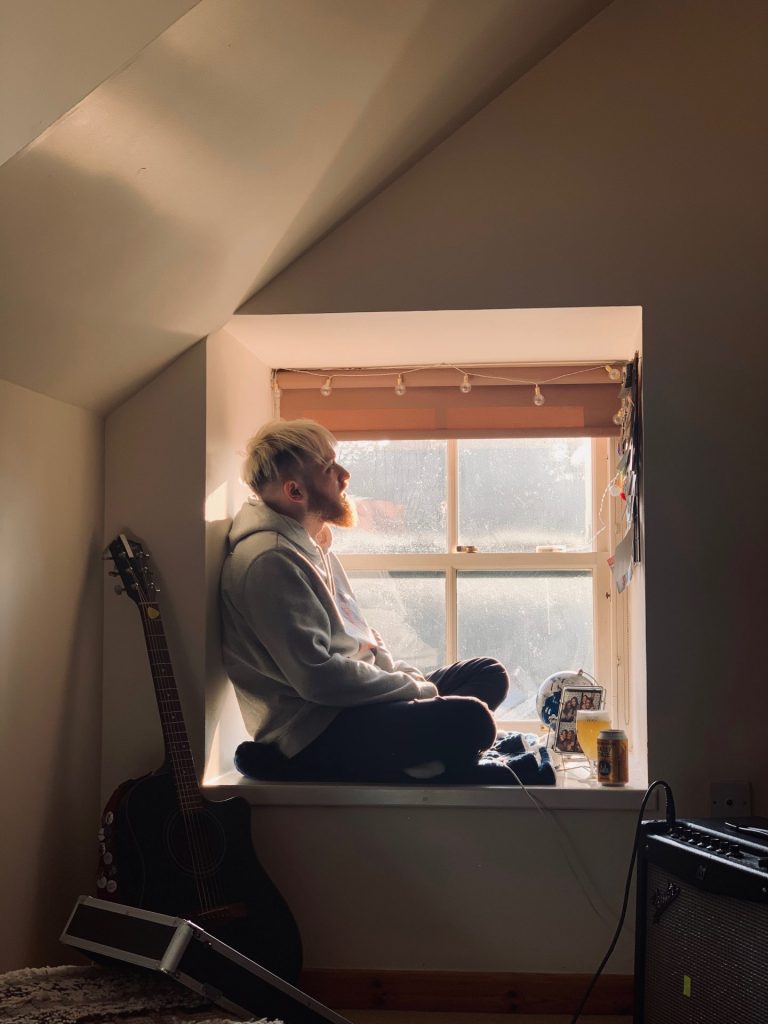 What habits have started to form or are starting to fade?
I went through a brief spell of running and trying to get fit again last year, that's definitely faded. I think the winter weather puts me off that idea now. Also, the more time I spend at home, the higher the temptation is to snack. I think that comes mostly from boredom though!
What random things are you buying online?
I've actually been pretty good and not really bought much online. The best and most random thing I probably bought recently was a Christmas gift for my girlfriend. It's like a 'Where's Wally?' book but instead this company put your dog in the book. You choose the breed and they put in a little cartoon version of your dog. So now we have a 'Where's Scoop?' book and it's great!
What are you most looking forward to doing again this is all over?
Going to the pub getting back to playing and attending gigs. I bloody miss gigs!
And finally, have you anything you would like to plug or declare?
Listen to my debut single 'Better Off' when it's out and have a wee cry to it.
0