Scottish artist, Linzi Clark returns with her second single 'Balancing Act'.
Following the release of her debut single 'The Kitchen' back in May, the Paisley singer-songwriter has teamed up with musician and producer Bovine once again to create a luscious piece of songwriting.
Known for exploring emotional themes with soul-bearing honesty and alluring poeticism, 'Balancing Act' finds her reflecting on her own personal identity and sexuality – where she fits in and how to find that elusive sense of belonging.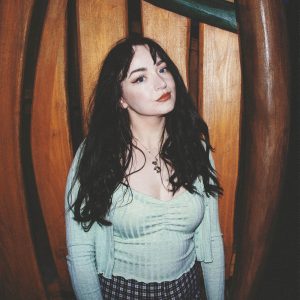 In her own words, "Balancing Act' was written over lockdown. It was a very free-flowing process that felt very organic – the song seemed to present itself to me rather than me having to go in search of it. The lyrics were easy because it was my story, my truth in a sense."
"The song tackles themes of identity and the struggles of navigating my way through sexuality and figuring out my position and where I fit in. It's about trying to find a sense of belonging. It's about discovering a side to yourself you never thought you could explore and the constant push and pull between what feels right and how you wish to be seen. Indulging in that sense of change but ultimately feeling vulnerable and exposed."
Already known to Scottish audiences as one half of electro-pop duo DRIFT, these new songs open up an auspicious new chapter of her musical journey. Her solo sound explores the existential leanings of artists like Joni Mitchell, Carole King and Julia Jacklin with modern Americana hues and rhythmic swagger.
Discover more about Linzi Clark: Twitter | Facebook | Instagram
Discover more new music…
Keep up to date with what we are listening to: follow our regularly updated Spotify New Music Playlist .
For live sessions subscribe to our YouTube channel and follow us on Facebook, Twitter and Instagram.
0