Glasgow band, wojtek the bear release their first single for Scottish DIY label, Last Night From Glasgow.
There's a brassy beautiful upbeat breezy feel to the new single, "ferme la bouche" with the band channeling an east coast USA feel with a whisper of Philadelphia soul.
But behind many an outwardly upbeat song there are often dark undertones as lead singer, Tam Killean explains, "It's basically a song about being in a toxic relationship, be that with someone who is being physically or verbally abusive or just isn't right for you and how often our first instinct is often to blame ourselves rather than the other person or look for the faults within first. The first line about everyone having a plan till they get punched in the face isn't necessarily meant to be taken at face value as it's more a metaphor for how we invest so much hope and blind faith at the start of new relationships, because you just have to in order to believe they're going to work, but when things invariably breakdown or hit a bump in the road we often don't have a plan b or an idea of what to do next."
Their new album heaven by the back door will be released in July.
The new single, "ferme la bouche" and accompanying video is out now.
We dropped in on Tam to find out what the band have been up to…
Hey Tam, how are you holding up and what's keeping you going through these strange times?
Hello! I'm good thanks, I'm very lucky in that almost all of my friends and family have come through everything ok and I'm hugely thankful for that. In terms of what's kept me going, I've almost finished watching pretty much every TV show HBO have ever produced and I also started running again, although I think the latter might just be a midlife crisis come a bit early…
Wojtek The Bear have a new single out, 'ferme la bouche', and it sounds a little different to previous releases. Tell us about the influence behind the sound?
It's our attempt at writing a sort of 3 minute Motown pop song. We properly leaned into that whole 60's Motown sound whilst recording and with the added horns and Becky's "gospel" falsetto we think we've made a fair crack at it.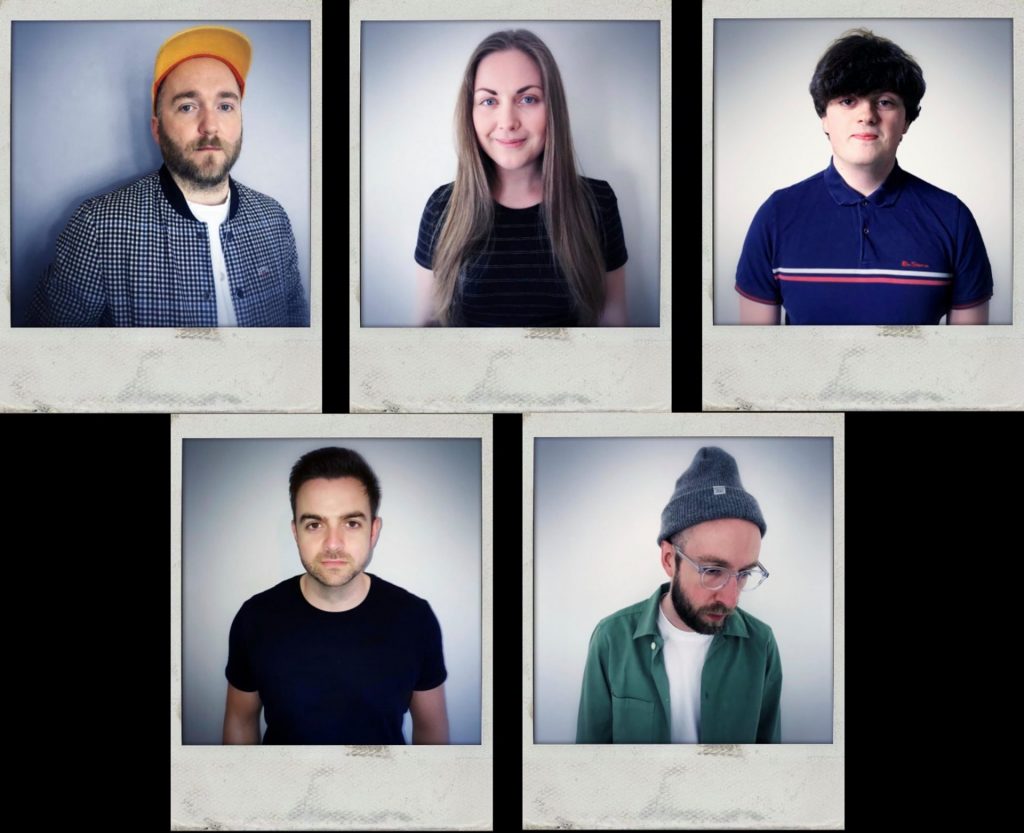 You have a new album out in July what can we expect from the album and how easy was it making that this past year?
Weirdly we didn't set out to write or record an album. We had planned to record and release a few singles over 2020 and had just about finished 3 songs when the first lockdown hit in March. As we saw all our gigs and festivals for the year slowly being cancelled we decided to try and use the time the best we could so started writing again and we managed to record the rest of the album in between lockdowns across the year.
In terms of what you can expect from it – I'd say it's a subtle yet significant shift for the better in how we sound. We're our own harshest critics (at least until the album is released and everyone else can tell us they think it's shite! :D) so we went through a lot of pulling apart and rewriting stuff before we got to the point of recording. There's definitely more of Becky on this record as since she became a full-time member of the band we started writing with her in the room from the beginning, unlike previously when we were only really adding strings as "musical garnish" towards the end of the writing process.
Has lockdown given you time to focus more on writing in a way that maybe you might not have done in normal circumstances?
It certainly changed the speed at which we write as we found ourselves at points counting down the days until we knew we'd be banned from rehearsing or recording again so it helped to focus our minds in that respect!
Are you able to make plans for an album launch and what will that look like?
We've optimistically booked an album launch for the CCA in Glasgow for 17th July, you can grab tickets for it right now from here. We're hoping to announce a full tour in support of the album for later in the year.
What are you most looking forward to doing once lockdown is over?
We're absolutely desperate to get back out playing gigs. I'm also looking forward to seeing all the other guys in the band for a pint, we haven't been allowed to be in the same room for over 6 months now and as I'm sure everyone will agree Zoom pints just don't cut it!
Pre-order the band's new album "heaven by the back door" here.
0