A week after a successful conference and music showcase, XpoNorth announce the line-up for the Seedlings stage at this years Belladrum Tartan Heart Festival.

The line-up features emerging acts from Scotland including, WALT DISCO, WUH OH, and AARON SMITH; alongside Highland talent THE ROOV & THE DIHYDRO. There will also be two special late night performances from the recently reformed Scottish act ASTRID and Inverness' own IAIN MCLAUGHLIN & THE OUTSIDERS.
Other acts appearing over the weekend include; HYYTS; LIMMO; VANIVES; SHEARS; QUICHE; SWIM SCHOOL, THE NOVACS; BROKEN CHANTER; MARK MCGOWAN; CONCHÚR WHITE; HANNAH SLAVIN; FREAKWAVE; SOLAREYE; SCHOLESY; LAKYOTO; CHUCHOTER; SCARLETT RANDLE; CAITLIN; EMIAH; and Germany's IVY FLINDT .
Belladrum Festival founder Joe Gibbs said, 'We are delighted to be partnering with XpoNorth to programme our emerging artist stage at Belladrum again this year. Over the years this stage has provided an opportunity to see some of the best new acts in the country at the early stages of their career before watching them break out and move their way up festival bills across the UK and further afield.'
XpoNorth Project Manager, Alex Smith said, 'Last week saw an amazing line-up of musical talent meet & play live to industry, labels and music managers across many venues throughout Inverness for XpoNorth, who's annual conference and year round programme of creative industry support has recently generated over 260 jobs & in excess of £5million to the Highlands & Islands economy to date.'
'Belladrum is an excellent platform for the acts we support to reach new audiences and develop their profile, and we're delighted to continue our long- standing partnership with one of the best festivals in the country. This year's line-up looks fantastic, and we're excited to be presenting such a diverse range of talent to the Belladrum audiences from this year's XpoNorth'.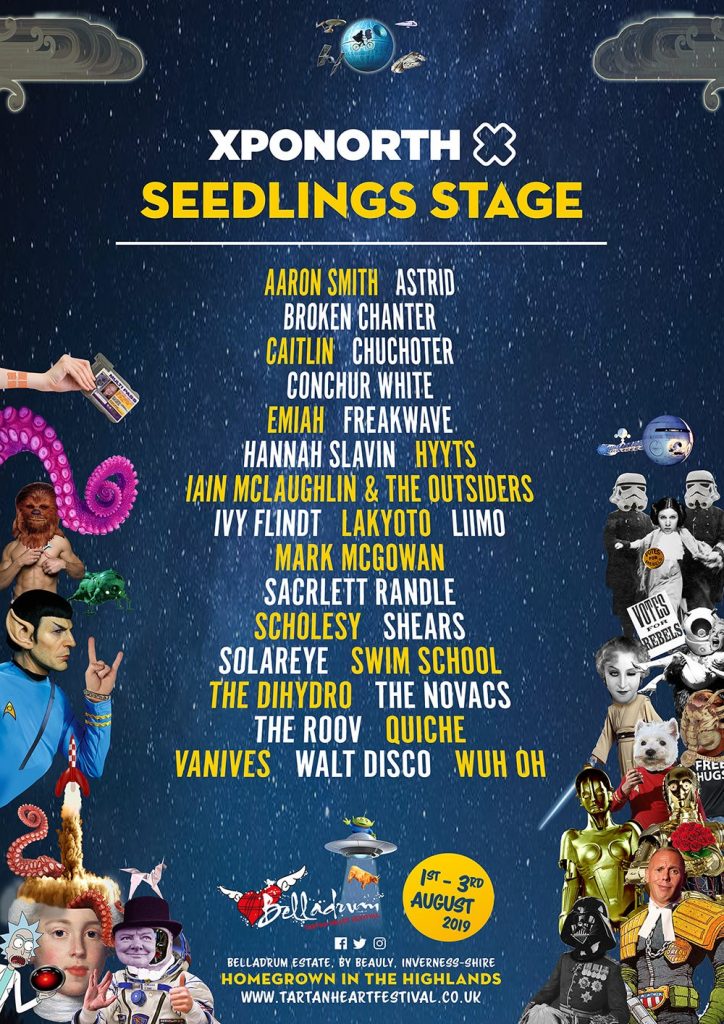 Headliners
This year's sold out sci-fi themed Belladrum Tartan Heart Festival takes place on the Belladrum Estate near Beauly just outside Inverness from August 1-3. This year's headliners are Elbow, Jess Glynne and CHVRCHES with Lewis Capaldi, Tom Odell, The Coral and Johnny Marr also on the line-up. For more information visit: tartanheartfestival.co.uk
Read more:
Johnny Marr, The Coral and Lucy Rose Join Belladrum Line-Up.
MusicPlus+ artists play Belladrum Tartan Heart Festival
Off Axis Seedlings Stage Line-Up
Photos © Al Donnelly thisisadp.wordpress.com
Discover New Music…
Keep up to date with what we are listening to by following our Spotify New Music Playlist .
For live sessions subscribe to our YouTube channel and follow us on Facebook, Twitter and Instagram
0